Selected Student Profiles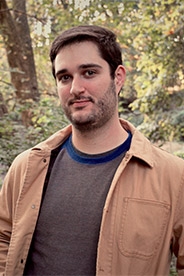 Adam Horin
Adam Horin came to AU with a degree in Neurobiology & Physiology from Purdue, along with a lifelong passion for music. He had previously worked in biomedical research labs at the National Institutes of Health and Purdue, and has authored two professional publications as well as presented posters on his research at conferences around the country. But he never lost the creative spark for writing his own songs, and decided to pursue a degree with ATEC to learn about music production in an academic setting.
In this academic setting, Horin has been able to continue pursuing his interest in biomedical research while also learning about the technical skills of producing his own music. On top of his ATEC courses he has also been able to integrate psychology courses into the degree as his electives and has had an internship doing research on singing therapy in Parkinson's disease at Wash U School of Medicine in St. Louis. His Master's capstone project investigates the principles of rhythm processing and its applications for rhythm discrimination tasks used to assess neurological deficits. ATEC has provided him with a skill set in audio engineering that he has been able to carry over into his research endeavors. After completing his Master's, Horin plans on pursuing a doctoral degree to continue doing research that incorporates his passions for music and science. "I've found this niche that really blends both those passions together for me in a way that I didn't even imagine until I was doing my Master's," reflects Horin.
James Reber
James Reber has come full circle since completing his Master's in Audio Technology at AU. What began as a quest to understand sound itself as an young man has morphed into a career allowing others to learn as he did. Reber's class at AU emphasizes studio techniques for aspiring undergrads to learn from a professional in the field.
When not teaching at AU, Reber found his calling as a broadcast engineer for the BBC at the Washington, DC. bureau. His education allowed him access to a job where he works to maintain the technical infrastructure of the BBC's operation in DC as well as assisting with news programs taped on site. His career has allowed him to harness the innovative techniques he learned at AU to help deliver the news to waiting ears.
Gaston Reboredo
Gaston Reboredo does not worry too much about being in the background as a sound engineer. Instead he focuses on the important role he has at WAMU FM radio, manning the mixing console for NPR's All Things Considered. Reboredo considers the work he does part of the process of creating a work of art within the audio mix itself.
Before he created sonic landscapes for NPR, Reboredo received a Bachelor's in Audio Production from AU's ATEC program. His time in the program offered him great opportunities, such as an internship with his eventual employer, and access to knowledge and equipment that is usually reserved for professionals. He remains active in the Audio Engineering Society that he first joined as a student at AU.
Alums in the Field

Andros Rodriguez (BS '01) is a freelance audio engineer in New York, where he records and mixes albums with dozen of the top recording artists in the industry including Shakira, Christina Aguilera, Justin Timberlake, Ludacris, !!!, Bone Thugs-N-Harmony, Jewel, and Whitney Houson. Recent projects include albums with Madonna, Florence and the Machine and Jamie Foxx.
Eric Kenehan (BS '04) is an editor of digital content for the hit television show, The Voice.
Nick Krill (BS '05) is the lead singer of the Spinto Band and owner/operator of the Garden Center Studios in Wilmington, Delaware.
Max Lauer-Bader (BA '06) director of product support for Korg, where he does beta-testing and suggest improvements to products.
Tom Gardner (BA, '07) works as the chief engineer and studio manager at The Cutting Room Studios in New York City.
Joe Sigmund (BA '07) works as an agent at the William Morris Talent Agency in Los Angeles, CA, where he represents some of the top electronic music artists in the world.
Will Fortune (BA '08) works as an audio engineer at Georgetown Post in Washington, DC. He worked on ads for the Obama campaign in the most recent presidential election.
Laurie Adlington (BA '08) is the Studio Manager for Sam Jones Pictures, which does media advertising work in Los Angeles. Recent clients include Hugh Jackman and Robert Downey, Jr.
John Geraghty (BS '11) works as a for Walters-Storyk Design Group. One his most recent projects was Alicia Keys' private studio.
Norm Robinson (BA '12) works as post-production audio engineer for Silver Spring Studios. His most recent project is America's Most Wanted.