Research Brings Science to Life
The MS in Biology is a research-intensive program that will prepare you for a variety of careers in the life sciences or to pursue further graduate study. With an emphasis on experiential learning, this hands-on program will give you experience in scientific methods through immersion in all aspects of scientific research, including the formulation of testable hypotheses, experimental design, data collection and analysis, and dissemination of results as written articles and oral presentations.
In this program, you will conduct your own independent research and have access to state-of-the-art equipment in multiple research laboratories. Thanks to our small classes and collegial atmosphere, you will benefit from individual attention and one-on-one mentorship from our experienced and dynamic faculty.
Our department offers courses that combine traditional education in biology with the training necessary for today's professional job market. You will gain valuable teaching experience as you lead undergraduate students through the laboratory portions of their biology courses. The education and experience you gain in this program will give you the skills you need to start your career as a scientist.
Rigorous Training Emphasizing Research
The 30-credit MS in Biology emphasizes the development and implementation of research techniques, giving you experience in scientific methods and experimental design. You will build a strong foundation in biology, statistics, and research methodology with 12 credits of required coursework. With 12 credits of electives, you can select your area of expertise, expand your horizons with classes from other departments, or explore your career options and gain real-world experience with an internship at of the DC area's many research institutions. As you complete 6 master's thesis credits, you will conduct your own research project in your chosen area of interest. Research activities are concentrated in the areas of cell and developmental biology, ecology and evolutionary biology, microbiology, genetics and genomics, and neurophysiology.
Full-time students usually complete the program in two years. Part-time students can complete the program in up to six years.
See complete admissions and course requirements.

Start Your Career in the DC Research Hub
Washington, D.C., is a hub of cutting-edge biological research activity. AU's location and professional partnerships allow graduate students the opportunity to collaborate with investigators at some of the nation's most prestigious biological research centers, including the Smithsonian Institution, National Aquarium in Baltimore, National Institutes of Health, and the National Oceanic and Atmospheric Administration. Our students gain additional experience and get a head start on their careers by interning at these facilities.
Expert Researchers Dedicated to Your Success
Our program's low student-to-faculty ratio ensures that you will receive personal attention and close guidance from highly collegial faculty mentors. You will benefit from one-on-one mentorship from expert researchers who are renowned for their work in cancer biology, developmental biology, ecology and evolution, molecular biology, microbiology, and neuroscience. Our faculty receives funding from a variety of sources, including the National Science Foundation, the National Institutes of Health, and the Fish and Wildlife Service.  
Bring Your Career to Life
Graduates of AU's MS program are well positioned to advance their careers. Our graduates go on to PhD programs at respected universities, such as Harvard University, Cornell University, the University of Texas, and Georgetown University. Many of our students go on to pursue medical degrees and careers in medicine.
Our graduates work at a number of government and non-government institutions in the DC area, including the National Institutes of Health, the National Oceanic and Atmospheric Administration, the National Aquarium, environmental consulting firms, and various molecular genetics and pharmaceutical startups.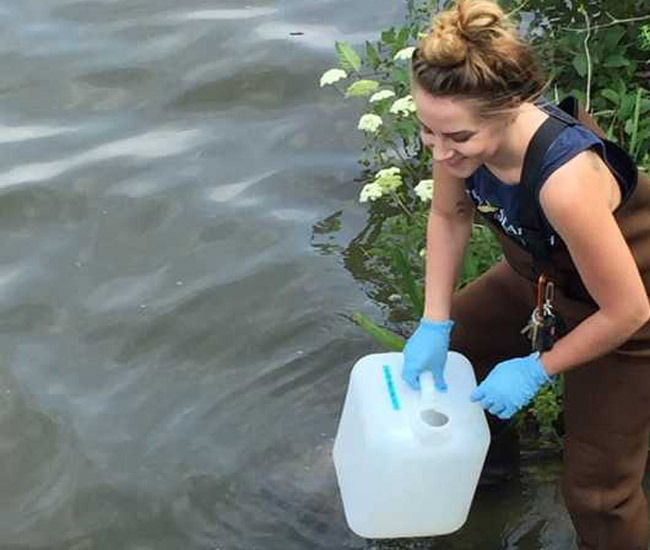 Rebecca Wilken, CAS/MS '17
Biology
I am confident we can introduce higher quality, safer products to the market.
Rebecca Wilken (MS in Biology, 2017) used zebrafish to model biological river health by tracking hatch rate, survival, growth, and behavior of fish reared in water from the Anacostia River. Her results may allow behavioral data to identify contaminants in aquatic systems. Rebecca is now a regulatory scientist with Exponent, Inc., where she works to introduce better, safer pesticide products and devices.
Please send me information about Master of Science in Biology