Biology
4400 Massachusetts Avenue NW
Washington
,
DC
20016-8007
United States
Graduate Student Profiles and Projects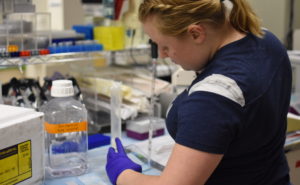 Mary Kelley
Mary is a final year Master's student in Biology. In 2014 she graduated from the Rochester Institute of Technology with a degree in Biomedical sciences. Her fascination with cancer stems around the mechanism and morphology that cause the cancer to proliferate and invade a person's body. Her current project is looking at the role of Epidermal Growth Factor Receptor (EGFR) within a Squamous Cell Carcinoma TPL2/MAP3K8 knockout mouse. She believes that the Mesenchymal Epithelial Transition Factor (MET) and EGFR are somehow interconnected within Squamous Cell Carcinoma. Both of these tyrosine kinase receptors activate downstream signaling, which could potentially crosstalk with one another. She is hoping to confirm this hypothesis to help better establish therapeutics for the 2nd most common skin cancer. She also works on the Multiple Myeloma project that looks at the correlation between drug resistance and obesity. Before pursuing her Master's she worked as a Research Associate at a Molecular Diagnostics company that focused on proteomic cancer biomarkers. 
Maria Ochiai
Maria graduated with a major in Biology and a minor in music. She was an honors biology student and has been a part of the lab since May 2018. Maria works on the multiple myeloma project, which examines the role of obesity on cell adhesion mediated drug resistance in multiple myeloma cells. She will continue her work investigating multiple myeloma in the AU's two-year Biology Master's program. In the future, Maria aspires to become a doctor. Outside of lab, Maria is an avid artist and musician.