In the Community
A Unique Harmony An Evening of Cultural and Diplomatic Dialogue at the US Institute of Peace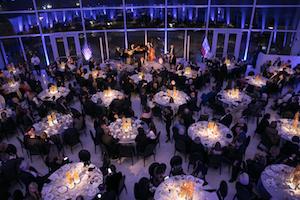 The United States Institute of Peace—the soaring glass and limestone building near the National Mall designed to reflect America's commitment to ending global conflict—is perhaps not the first venue that comes to mind for a swinging session by two legendary jazzmen.
 
But on November 1, Russian and American jazz icons Igor Butman and Wynton Marsalis not only received the National Dialogue Award from the Sustained Dialogue Institute—they also gifted attendees at the ceremony with an electrifying private concert. Twenty Carmel Institute of Russian Culture & History students were among the guests.
 
Founded in 2002, the Sustained Dialogue Institute—which promotes the method of peacemaking developed by its first leader, Dr. Harold Saunders—has been deeply involved in peacebuilding across the world. Saunders was a key drafter of the Camp David Peace Accords, and also served as Assistant Secretary of State under President Jimmy Carter.
 
First presented in 2014, the National Dialogue Award mission statement asserts that the honor "aims to promote the values of dialogue, especially sustained dialogue, in the transformation of national and global conflict. It seeks to reach across national and transnational boundaries to bring people of every age together for a better world."
 
Previous awardees include US Supreme Court Justice Ruth Bader Ginsburg; US Congresswoman Gabby Giffords and her husband astronaut Mark Kelly; US Senator George Mitchell and US Congressman John Lewis; and Carmel Institute founder Susan E. Carmel.
 
The Sustained Dialogue Institute proclaimed that Butman and Marsalis each received the award "in recognition of the monumental contributions they have made bridging divides through the arts, including through the use of music and student exchanges to bring young people and others together from across the world."
 
"We love and respect each other and have many of the same music idols," Butman said in his acceptance remarks. "By the way, some of Wynton's idols are Russian—like Tchaikovsky, Stravinsky, and Rimsky-Korsakov. I also have a lot of US idols—including Marsalis himself."
Marsalis returned the compliment, telling the audience, "This award is even more special to me because of the presence of my brother in swing—who has traveled many kilometers to join us here tonight—Igor Butman."
Both artists emphasized that music transcends cultural differences and geographical boundaries.
"Art and especially music itself has no borders," observed Butman, "and our mission as musicians is to build new humanitarian bridges between nations and countries. Jazz diplomacy and musical education is our tool to help people all over the world to overcome boundaries and erase barriers."
Jazz, Marsalis believes, is a musical genre uniquely suited to the task: "Jazz is a unique and very powerful language that helps to bring peace and understanding to this world. Jazz is the sound of freedom, born of the quest for harmonious dialogue through the resolution of conflicting perspectives—under the pressure of time," he said.
Anatoly Antonov, the Ambassador of the Russian Federation to the US, praised not only the musical talents of Butman and Marsalis but also their committed cultural outreach efforts. "Today we are celebrating two luminaries of jazz art," Ambassador Antonov noted. "They have fans all over the world, and their musical creativity, bypassing language barriers, helps people to better understand each other."
Offstage, Butman and Marsalis have each dedicated themselves to an ambitious schedule of education and cultural dialogue initiatives.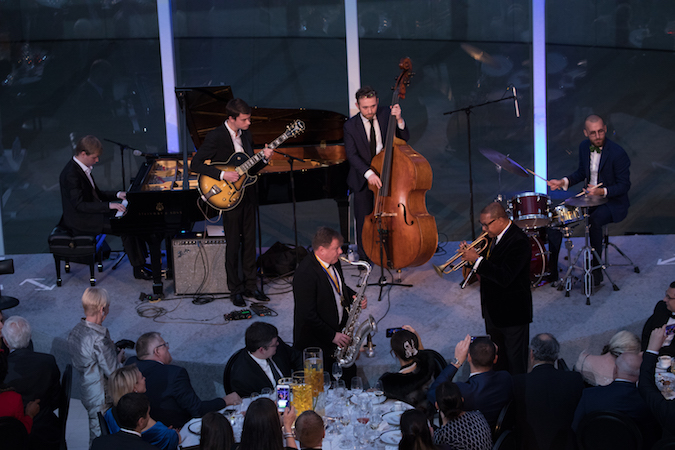 In 2017, Butman successfully launched Jazz Across Borders, the first jazz conference in the history of Russia, which has since become an international event. In 2018, he became, with Herbie Hancock, the co-artistic director of St. Petersburg's International Jazz Day.
As the Managing and Artistic Director of Jazz at Lincoln Center, Marsalis, the first jazz artist to be awarded the Pulitzer Prize, has been appointed both as a UN Messenger of Peace and as a Cultural Ambassador for Jazz by the US State Department.
Ambassador Antonov also had special words of thanks for Susan E. Carmel, the Gala Chair and Founder of the Carmel Institute of Russian Culture & History. "We highly appreciate everything you do to build trust between our peoples," he said. "Cultural dialogue allows Russians and Americans not to lose the experience of communicating with each other, and creates a groundwork for the restoration of bilateral relations at the political level."
"Wynton and Igor both know and live this model of substance and the model of sustained dialogue," said Susan E. Carmel. "They know that the global challenges we face today and in the future can be positively influenced and changed through person-to-person dialogue, cultural and musical dialogue, and educational exchange and dialogue."
Echoing the words of her late brother-in-law and music educator, Dr. Charles Hoffer, Ms. Carmel asserted that "living is more than existing. Do people need music? Not in the sense that they need to eat and sleep. But they do need it in terms of a rich human life. Humans need music, beauty, gentleness, sensitivity to others, and all the civilizing elements that create a life of substance."
Shortly after delivering their own remarks, with National Dialogue Award medals hanging from their necks by bright blue and gold ribbons, Butman and Marsalis launched into a thrilling set of jazz standards. A delighted audience clapped, cheered, and even shouted their appreciation, ultimately rewarding the jazz greats and their sidemen with a standing ovation.
Ambassadors and high-ranking diplomats representing more than twenty countries were in attendance, a fact that was interpreted as a hopeful sign by Sustained Dialogue Institute president Mark Farr. "This is positive proof that despite worldly challenges, these collaborations unite us. Cultural diplomacy can bring peace to the world," he declared.