Arts
Counter-Cultural Cool: Valery Todorovsky's Stilyagi (Hipsters) Carmel Institute of Russian Culture & History Hosts Screening of Cult Favorite Film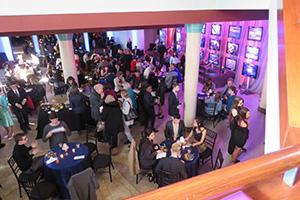 Take one part Grease, one part La La Land and a dash of Hairspray, throw in a liberal amount of swing and boogie-woogie with a Russian accent—and the resulting mixture will just about approximate Stilyagi (Hipsters), Valery Todorovsky's 2008 musical comedy-drama that has become a cult favorite of film audiences around the world.
On April 27, a full house of Carmel Institute of Russian Culture & History students and guests screened Stilyagi at the Russian Embassy's Tunlaw Theater.
Stilyagi tells in tunes the story of the post-World War II counter-cultural Russian youth movement that embraced both American music and style—often much to the chagrin and suspicion of their elders and government officials.
The term "Stilyagi" roughly translates as "stylish" or "style hunters", in reference to their pursuit of overseas fashions from roughly the late 1940s to the early 1960s. The first incarnations of preferred Stilyagi dress resembled the American "zoot suit" trend of bright colors and exaggerated lines, matched with a musical and dance taste for jazz, swing, and boogie-woogie.
Set in 1955 Moscow, Stilyagi follows Mels—a sincere young member of the Komsomol Communist youth group, and an accomplished athlete—as he converts from a card-carrying and pin-wearing Party aspirant to a committed hipster. If such a conversion perhaps seems unlikely, romance can easily explain it away: During a Gorky Park raid led by the stern Komsomol operative Katya, Mels unexpectedly finds himself thoroughly smitten with Stilyagi siren Polly (Polza), who—after pushing him into a lake to escape—invites him to see her again on "Broadway" (Gorky Street), where the hipsters habitually gather.
Taking Polly up on her invitation, Mels visits "Broadway", and again encounters the hipsters. Realizing that he will never win Polly unless he, too, becomes a hipster, Mels is determined to join the Stilyagi. So the stage is set for Mels' pursuit of Polly—but not first without a radical transformation of heart, mind, and style.
Before the film, guests from several local universities—including American University, Georgetown University, George Washington University, the University of Maryland at College Park and Baltimore County, George Mason University, and others—dined on a buffet of tasty Russian food.
A stunning photography exhibit from the Russian Geographical Society—"Russia: The Most Beautiful Country"—was on display, illustrating the beauty and diversity of the Russian landscape and its inhabitants.
American University Musician in Residence, saxophonist Noah Getz, also entertained the assembled cinema buffs with a slate of jazz classics. A 2002 Grammy Award nominee, Prof. Getz keeps an active schedule performing both classical and jazz repertoire when not instructing at AU.
As the theater lights dimmed, the Russian Embassy's Cultural Attaché, Daria Anisimova, welcomed the audience. Like many of the movie-goers, Ms. Anisimova was dressed in a retro ensemble in tribute to the era of Stilyagi.
"This film is not very typical of modern Russian cinematography—not many musicals are produced in Russia nowadays," said Ms. Anisimova. "That's probably why the interest and the reaction to this film in Russia was so great."
While she noted that Stilyagi is not very historically accurate, it nonetheless "gives a clear understanding of how people stood up for their right to self-expression. In true fact, jazz and rock and roll were banned in the Soviet Union, as something related to the Western lifestyle," Ms. Anisimova explained. "To be able to listen to this music, people had to make illicit copies of vinyl records using already-developed x-ray films. If someone was caught with those records, they could sentenced up to five years in prison or labor camps."
Ms. Anisimova noted that "some experts say that this counter-culture, Stilyagi, was formed of the youth that went through World War II, and may have come across the Western culture while fighting in Europe."
That ruinous war cost at least 27 million Soviet lives—and so perhaps it is not surprising that young people who had witnessed such horrors might turn to a robust affirmation of life, much like the United States' "Lost Generation" following World War I.
"The American influence on our culture cannot be underestimated, either," Ms. Anisimova observed. "It shaped the Stilyagi movement, which itself paved the way for the Russian rock and pop music of the 80s and 90s, and also Russian jazz."
Carmel Institute Director Professor Eric Lohr provided additional historical context for Stilyagi.
"After the incredibly traumatic and devastating war experience of World War II, there was a bit of a window of loosening in the Soviet Union—right at the end of the war, and for about a year after that. And in that period, jazz was kind of allowed a little bit in clubs," said Prof. Lohr. "But then came a very sharp crackdown period, from 1946 to 1953"—the final years of Stalin's life, which Prof. Lohr explained was one of the most repressive periods of the entire Soviet epoch. Jazz was especially targeted.
"In fact, in 1949, saxophones were confiscated; jazz clubs shut down; there were arrests of jazz band members—it was dangerous to listen to or to be performing jazz in that era," Prof. Lohr noted. "But nonetheless, there was still, for some reason, an underground scene." This covert cultural scene comes more into the open in the 1950s. It is at the center of the movie's action—and the Stilyagi's conflict with the Komsomol Communist youth league that acted as enforcers of the government's anti-jazz policy.
The Stilyagi movement was not peculiar to the Soviet Union; there were similar youthful counter-culture incarnations worldwide: beatniks in the U.S.; Teddy Boys in the UK; Italian youth pursuing "la dolce vita". Prof. Lohr observed that, "This kind of post-war hedonism was a theme that resonated around the world; this was a kind of a variant of it within the Soviet Union."
As with any musical worthy of the genre, Stilyagi features multiple large-scale production numbers, with those otherwise going about their daily business suddenly bursting into song and dance. These are complemented by club floor shows overflowing with the musical and physical energy of the Stilyagi sect.
After he is freshly attired in Stilyagi splendor and taught to appropriately dance, Mels becomes an accepted member of the hipster crowd—who have Americanized their Russian names to monikers such as Fred, Bob, and Betsi. Not everyone, however, is understanding of his new lifestyle choice. In his first public foray as a hipster, Mels is verbally abused by both neighborhood children and streetcar riders. Polly causes a similar municipal scandal; "We fought Hitler for that? Outrageous! She's an insult to all Soviet women!" her infuriated onlookers exclaim.
But Mels will gladly endure being ostracized if it means that Polly may one day love him. He is also quick to notice that some of the most romantically successful hipsters are those who can sing or play an instrument. His choice? The forbidden saxophone. But how to get one?  
"A saxophone is considered a concealed weapon," Mels is cautioned by the retired jazzman who agrees to sell him his horn. While this slice of dialogue elicits audience laughter, it also contains a genuine warning. By learning to play the saxophone, Mels is about to take his social and cultural rebellion to yet another level.
He sets about tutoring himself by tuning in to pirate radio stations from New York City, while tentatively imitating the jazz sax sounds he hears. Given that Mels has never before touched a saxophone, the task of transforming himself from wannabe to wailer would seem a long-term project at best, or impossible at worst—until his earnest efforts conjure the spirit of legendary American jazzman Charlie Parker. After his first club debut, Mels is rewarded by a kiss from Polly, and their relationship turns serious.
Fred, the leader of the Stilyagi, is soon informed by his diplomat father of the chance of a lifetime: a trip to America! Given that the voyage entails working in an official diplomatic post, there are conditions: Fred must tame his pompadour hairstyle; trade in his Stilyagi threads for a somber business suit; abandon his hipster circle of friends; and marry a "respectable" girl.
"Your mother and I live well," Fred's father observes, a not-so-subtle allusion to the trade-offs necessary to live comfortably in Stalinist Russia. Outrageous and unorthodox behavior that flouts social convention is not, he means to say, among the traits desired to climb the ladder of Soviet success. "Sorry for the cynicism, but there are certain rules," he explains. There is a hint of melancholy to the exchange, as if Fred's father understands what he is asking Fred to give up because he, too, once had a few youthful dreams of his own. "At you age, I also used to dance in pubs," Fred's father informs him, and then proceeds to show off some of his own dance moves.
After Fred's departure, Mels becomes the de facto leader of the Stilyagi. Katya tries and fails to lure him away from Polly, resulting in a classroom showdown in which grey-clad Komsomol members chant in unison about being chained together with one chain, a notion eerily reminiscent of Pink Floyd's bricks in the wall. "Every hipster is a potential criminal" Katya had earlier matter-of-factly observed. While Mels once tried to convince her of the value of non-conformity—"It's cool when people are different, Katya!"—it is now painfully obvious that she and Mels can never be reconciled, and so he hands in his Komsomol card in a final act of defiance.
After Polly announces to Mels that she is pregnant, they decide to wed—even though Polly informs Mels that the child is not a result of their own tryst, but instead, of a liaison with an American exchange student. When the dark-skinned baby arrives—and with him, the obvious visual reminder that he is not the biological child of Mels and Polly—he is nonetheless welcomed by family and friends, in another strong thematic message about the importance of acceptance.
When Fred returns from America—bearing the stunning gift of a brand new saxophone—Mels is thrilled. He is not, however, so ecstatic to hear Fred's grim and fantastic report: There are no Stilyagi in America. "If we walked down Broadway dressed like this," Fred says, gesturing to Mels' hipster clothes, "down the real Broadway…we'd be taken to a nut house after walking two blocks. Mel, try to understand. There are no stilyagas there."
"Get lost! Get lost! Go to hell!" a shocked and disillusioned Mels angrily shouts at Fred.
"But we exist," Mels says aloud to himself as Fred retreats. It's as much an epiphany as an assertion of identity, and seems to confirm that, even if hipsters don't actually exist in America, the Stilyagi—despite now being scattered to the winds through Siberian exile, military service, and various other fates—successfully created their own authentic style, culture, and friendships, a reality much more important than mimicking a dreamed-of way of life in a distant land.
In the film's finale, Mels and Polly dance down a broad boulevard, joined by the denizens of other counter-culture groups that emerged following the Stilyagi—punks, rockers, New Wavers, and more—in a joyous and raucous celebration of being different, and of just being themselves. "And may love save us all!...Go on, play on!" the crowd sings, as it eventually swells to fill all of Gorky Street, as far as the eye can see.
Renee McNeil and her friend Alan Vochinsky—who are studying Russian at Northern Virginia Community College—enjoyed the film. "I've seen part of it before," said Mr. Vochinsky. "I just love it…It's very one-of-a-kind. It's entertaining the whole way through. The comedy is a nice break-up from the music. Musicals in America, they're almost oppressive with how much music they throw at you; this is a very nice pacing."
Nick Fenton—an alumni of the University of Virginia who studied political and social thought and Russian history—had also seen Stilyagi before. "I think it shows a really interesting take on a very specific period of Soviet history…it presents it in a really interesting and exciting way, visually and musically, so it was great to see it again."
"I thought it was very different from what is currently coming out of Russia, and what you can see historically," observed Matt Grasimovich, a student at George Washington University majoring in International Affairs and Russian Literature. "It's just a really fun film overall."
Daniel Heine—an AU student pursuing a degree in International Relations and Business—shared that "I just thought it was really interesting seeing what the culture was like at that time period. Even though it wasn't very historically accurate, I think it still does show a bit about Russian culture at that time."
"I think, especially with youth, everyone's much more similar than you think," said Nathan Glushka, who is majoring in International Relations at AU. "I think things are a lot more globalized now, on a social level, too."
On February 21, Stilyagi hit the stage of the State Theatre of Nations in Moscow as a live musical. Featuring the same neon colors and costumes, boisterous music, and dynamic dance numbers, it will perhaps introduce a new generation to the Stilyagi phenomenon.
Dessert was served following the film, and departing guests received bags of cookies shaped like musical notes reflecting the movie's tune-filled theme.
Photos from the film screening can be viewed on the Carmel Institute of Russian Culture & History Facebook page