First Person
Students' Reflections on the First International Mariinsky Far East Festival in Vladivostok Carmel Scholarship Recipients Experience the Arts in Russia's Far East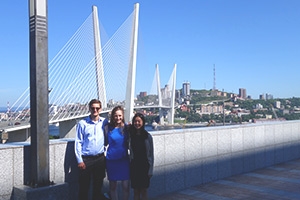 Harvey Hinman (Georgetown 2015) and Claudia Huang (Georgetown 2017) interned this past summer in Vladivostok, assisting organizers of the First International Mariinsky Far East Festival in Vladivostok with the artists. They went to Russia's Far East on Susan Carmel Lehrman scholarships. Here are their reflections:


Harvey Hinman
Over the course of the two-week Vladivostok International Far East Festival of the Mariinsky Theater, I experienced a Russia very different from that in Moscow or St. Petersburg. While the streets lined with a mixture of neoclassical, Soviet, and modern architecture could have been transplanted from Moscow, the laid-back crowds in tank tops and shorts that fill them seemed to belong in Barcelona. Even more than their clothing, however, the outlook of those in Vladivostok set them apart from their eastern compatriots. They were excited to compare their city to San Francisco or Vancouver and to tell of the latest news about Vladivostok with an optimism I never saw in Moscow. Many had spent time or had family in major cities in western North America, Japan, Korea, and China. Built upon this, I found that their ideas about international identity seemed to be anchored in personal relationships and their regional position, and not in Moscow politics.
Vladivostok extended its warm reception to many visiting soloists from around the world. Many artists remarked upon the enthusiasm of the local audience. One singer was particularly touched by the way the audience joined her character's emotional journey. Members of the audience were touched too. A mother and daughter explained to me how excited they were to have such outstanding soloists in Vladivostok, when in the past they had to travel to Moscow to hear such music. Visiting audience members from Korea, Japan, and beyond, excited about the festival's efforts to transform Vladivostok nto a regional music hub, also enjoyed the performances, food, and history the city offered. At the end of two weeks, we all felt lucky to have participated in such a unique event and look forward excitedly to the festival's second iteration next year.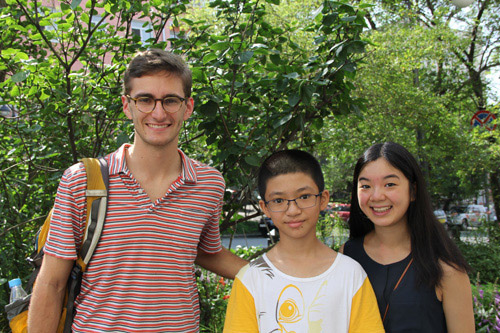 Claudia Huang
To be honest, I had never heard of Vladivostok, Russia, when I first received the opportunity to volunteer at the Mariinsky's I International Far East Festival. As I learned more about why the Mariinsky Theatre established its Primorsky Stage and this festival, I discovered how dynamic international relations are and how essential the arts and cultural exchange are to them. I am beyond grateful to Ms. Carmel Lehrman and the Carmel Institute of Russian Culture History for sponsoring my time at the festival.
I volunteered at the festival in the midst of conducting research on Western classical music, values, and identity in Taiwan and East Asia. Having focused on this topic, I recognize that the Mariinsky's Far East Festival is a significant investment for a Western art institution to have made in serving East Asian artists and audiences. By seeing performances by artists from all over the world and the enormous effects they had on audiences, it was hard to deny the power the arts have in bringing together disparate parties.
While I had a number of assigned tasks as a volunteer, my favorite by far were my principal duties: working with artists. I was able to meet some of the most established performers in the world, as well as some of the brightest rising young talents, many of whom were (amazingly) around my age. I am filled with gratitude that I had the opportunity to assist and get to know these performers. I was constantly surprised by the warmth and generosity these artists had to share—not just artistically, but also personally.
I will never forget the privilege of watching these artists transform each day. When I picked them up at the airport, they were often tired and reliant on festival staff and me to get them to where they needed to be. But then a day or even mere hours later, these same artists would hold thousands of people rapt as they performed. I would sit backstage, reeling from their performances and the magnitude of the audience's response.
In these moments, I knew I would remember some of these concerts for the rest of my life: Ana María Martínez as Cio-Cio San in Madama Butterfly with the Mariinsky Opera and Orchestra, Seung-Jin Cho playing Rachmaninoff with the Mariinsky Orchestra, and Yu-Chien Benny Tseng's recital with Sergei Redkin, amongst others. It took my breath away that these artists could capture audiences by sharing something beautiful. There was nothing more thrilling for me to have experienced this and to have helped enable it. I was constantly in awe of the strength of artists and audiences' respect for one another—some artists' relationships with their fans went back years, such as those who had first met when the artists had competed at the Tchaikovsky Competition. One time, American violinist Nigel Armstrong obliged when a fan ran into him in a theatre hallway and asked him to play a bit. It turned into a mini concert, as a small crowd gathered and Nigel played again and again for them.
Thank you to Ms. Carmel Lehrman and the Carmel Institute of Russian Culture History for sponsoring me at the Mariinsky's I International Far East Festival in Vladivostok. My experience there has motivated me all the more to pursue working in arts administration and policy, which I hope to do to advance music and the understanding it promotes. I have taken away an even greater appreciation for the arts, and Russia's invaluable contributions to them. As I grow more invested in the arts scene in East Asia, I am grateful for how the Far East Festival is developing Russian-East Asian relations and championing the arts scene as a whole. I am grateful and proud of having experienced and, in the limited ways I was able, contributed to this festival's success.