CAS Launches New Majors and Programs New offerings range from big data to dance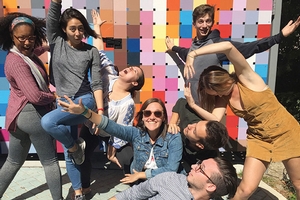 BS Statistics: Data Science Track
Data Science Minor 
Data Science Graduate Certificate
AU developed three new programs in response to the demand for experts in analytics, big data, and data science. The undergraduate data science track teaches students to combine statistics, computer science, and mathematics to analyze large amounts of data. Students learn to visualize data and develop statistical machine learning algorithms. The department offers a minor in data science with many of the same courses. The graduate certificate provides a stand-alone data science certification with advanced training in data visualization and analysis.
MA Mathematics:
Information and Security Track
This track combines theoretical and applied mathematics, data science, and information technology to meet the need for employees who possess deep mathematical insight and are skilled in the use of advanced computational tools and methods. Course offerings include cyber intelligence, national security, and counterterrorism.
MA Sociology Research and Practice
This hands-on program prepares students for careers in social advocacy, research, human services, and policy-making. Students build their data analysis capabilities while researching social inequities.
BA African-American and African Diaspora Studies
This interdisciplinary major examines African American culture in the context of contemporary and historical African cultures, theories of racial ideology and race politics, and the artistic, literary, and cultural practices of African people worldwide.
BA Dance
"The BA in dance is for the innovative AU student who wants to make connections between disciplines and forms," says Britta Joy Peterson, dance program director. The major focuses on dance technique, critical inquiry, advanced concentrations, and creative practice.
Online MA in Teaching: Elementary Education
The master of arts in teaching is a path to licensure in elementary education.
Online MEd Education Policy and Leadership
In this program, students develop the perspective and skills necessary to shape education policy. Students learn from experienced policymakers and conduct consultancy projects in educational organizations.