Lab School of Washington Fellowship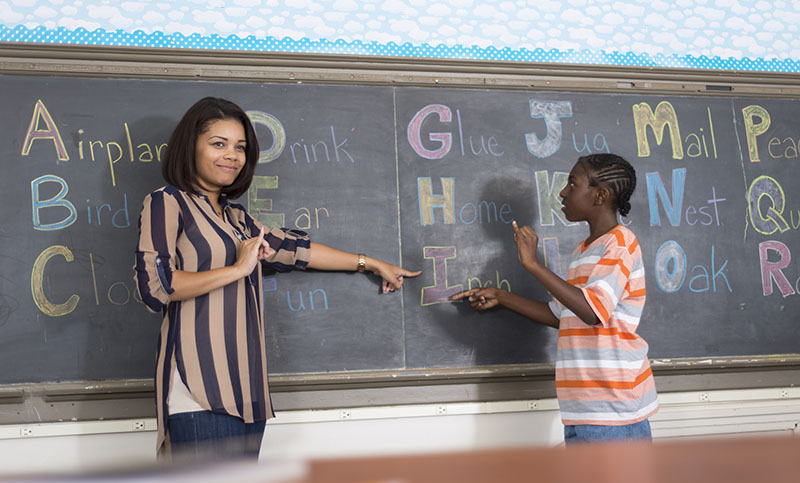 The Lab School of Washington Fellows is a competitive program that provides a select group of candidates for the MA in Special Education: Learning Disabilities at American University with the opportunity to complete a 12-month residency with intensive training and experience in working with students with a range of learning differences. The fellows program is grounded in evidence-based approaches, which provides candidates with the knowledge and skills to work with students with a range of learning differences, including dyslexia, language impairments, and ADHD. Fellows will be provided with intensive training experiences, classroom management, ongoing mentoring from Lab School master teachers and American University faculty. Coursework includes learning disabilities, language remediation, diagnostic and remedial reading and mathematics, and the neuropsychology of learning.
Program highlights
Earn a master's degree in one year
A $10,000 training stipend
$25,000 tuition scholarship 
Advanced training in Orton Gillingham and Multisensory Mathematics
Mentoring and supervision
Preparation for DC Licensure
Ongoing professional development workshops
Assistance with job placement
Membership in an extensive network of educators, researchers, and school leaders in special education
How to Apply
Apply to the MA in Special Education Program by February 1, 2019. Candidates should indicate they are interested in the Lab School Fellows program by checking the appropriate box in the application and describing their interest in their Statement of Purpose. Selected candidates must complete an interview with Lab School and American University faculty. For questions, write to specialed@american.edu.
Program Completion Requirements
32 credit hours
Completion of one-year internship at The Lab School
An electronic professional teaching portfolio
Completion of Praxis II Exam prior to graduation
The Lab School of Washington is an independent school which services students grades 1-12 with a diagnosed language-based learning difference. The unique environment of The Lab School places a focus on multisensory education, experiential learning, club models, arts, and small classroom sizes. This vision was created by Sally L. Smith, the founder of The Lab School who also launched American University's Special Education: Learning Disabilities program.
Interns can expect to work with a population of students with dyslexia, dysgraphia, ADHD, speech impairments, difficulties with self-esteem, and other learning disorders. In this hands-on experience, interns are able to apply information learned in their evening classes directly to students at Lab during the day. Interns will work closely under a master teacher to implement innovative, evidence-based, and creative lessons to small groups of students in literacy, math, and reading.
Read more about the partnership between The Lab School and American University.