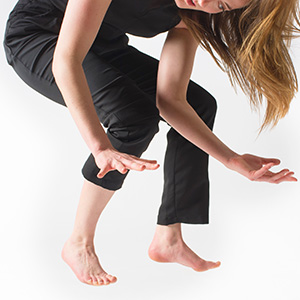 Britta Peterson

Professorial Lecturer Department of Performing Arts
Additional Positions at AU

Director of Dance Program, Professorial Lecturer

Degrees

MFA

Book Currently Reading

'American Gods' by Neil Gaiman and 'The Brain's Way of Healing' by Norman Doidge

Bio

Britta Joy Peterson is a dance artist who choreographs, performs, designs, and collaborates on contemporary dance works. A native of the thriving Minneapolis arts community, BJP is now a DC-based creative, working locally, nationally, and internationally with travel informing and shaping both process and product. As a dance maker and educator working primarily in contemporary and jazz forms, BJP's current research interests includes the intersections of responsive media and movement, prioritization of macro structure in the choreographic act, and in spatial/spacial design. BJP also specializes in dance for the theatrical stage, developing fresh material for classic plays and musicals, and devising choreographies and movement languages for new theatre works. Currently, BJP is the Director of Dance at American University in Washington DC, is choreographing several new works, regularly teaches across the nation, is in process with +++, a creative team producing performances, installations and workshops. She holds her BA in Dance and Communications, magna cum laude, from Gustavus Adolphus College and her MFA in Dance, summa cum laude, from Arizona State University. bjpdance.com.
Spring 2020
PERF-010 AU Dance Company

PERF-430 Closing Seminar
Summer 2020
PERF-200 Dancing Body in a Moving World
Fall 2020
DNCE-170 Opening Seminar

DNCE-215 Jazz Dance II

DNCE-475 Closing Seminar