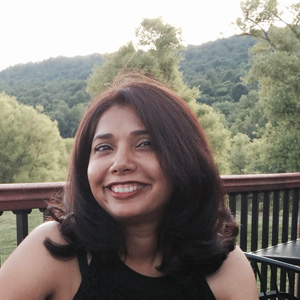 Priti Brahma

Adjunct Professorial Lecturer Department of Environmental Science
Degrees

PhD Civil & Environmental Engineering, UCLA
MS Civil & Environmental Engineering, UCLA
BS Mechanical Engineering, UC-Berkeley

Bio

Priti Brahma is an Environmental Engineer specializing in groundwater hydrology. Priti received her PhD from the University of California at Los Angeles in Civil and Environmental Engineering after doing her undergraduate work at the University of California at Berkeley in Mechanical Engineering. Subsequently she completed a Postdoctoral Fellowship examining the fate and transport of non-aqueous phase liquids in fractured media. During the postdoctoral fellowship, Priti also taught Environmental Sciences courses at UCLA's Institute of the Environment and California State University at Los Angeles. Following her fellowship, Priti joined the National Oceanic and Atmospheric Adminstration as a Presidential Management Fellow. In this capacity, she maintained a collaborative research and education program between the National Weather Service and Howard University. Prior to joining American University, Priti oversaw NOAA's Graduate Sciences and Nancy Foster Scholarship Programs which involved mentoring 30 master's and doctoral students as they complete their degrees and administrative oversight including operational budget development and execution. Priti was also responsible for overseeing two Cooperative Science Centers at Minority Serving Institutions and providing support to the Ernest F. Hollings Scholarship Program. In addition to teaching and mentoring students, Priti enjoys playing tennis, skiing, and traveling.