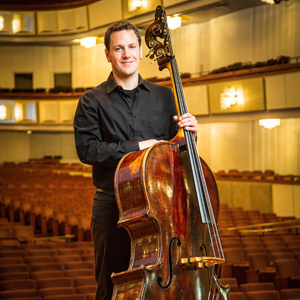 Paul DeNola

Adjunct Instructor Department of Performing Arts
Bio

A native of the San Francisco Bay Area, Paul DeNola joined the National Symphony Orchestra's bass section in July of 2006. Before moving to Washington, D.C., Paul spent three seasons as a member of the Oregon Symphony in Portland.

Paul has performed with the Los Angeles Philharmonic, the New Century Chamber Orchestra, the Smithsonian Chamber Music Society, the Eclipse Chamber Orchestra, the Garth Newel Music Center, the Cabrillo Festival of Contemporary Music, the Los Angeles Master Chorale, the Los Angeles Bach Festival, among many other orchestras and chamber music groups. He has also attended the Aspen Festival of Music and the Music Academy of the West.

Paul is the double bass instructor at both American University and Catholic University in Washington, D.C. In collaboration with fellow NSO bassist Ira Gold, Paul also co-founded DCBass, an intensive double bass workshop held each summer at American University. Paul is also on faculty at Peabody Bass Works, a summer music workshop for aspiring young bassists, as well as Golden Gate Bass Camp in San Francisco, CA. He was previously on faculty at Linfield College in McMinneville, Oregon, and was an assistant instructor at the University of Southern California.

A recent collaboration with NSO violinist Heather LeDoux Green has resulted in their writing a new music duo comedy show for kids called "The String Thing." Their show features a violin/bass duo playing classical music mixed with jokes and props, with no speaking by the performers. "The String Thing" will be featured as part of the Teddy Bear series at the Kennedy Center in spring of 2016.

Paul completed his undergraduate degree at Indiana University where he studied with former Los Angeles Philharmonic Principal Bassist Bruce Bransby. He then attended the University of Southern California where he studied with Nico Abondolo and privately with David Moore. His other teachers have included Barry Lieberman, Barton Frank, and Spencer Hoveskeland.

Paul's mammoth cello-shouldered double bass was made by Thomas Dodd in London, England, around 1810.
Spring 2023
MUS-021 Private Instrument Study: Bass

MUS-022 Private Instrument Study: Bass

MUS-121 Private Instrument/Vocal Study: Bass

MUS-122 Private Instrument/Vocal Study: Bass
Fall 2023
MUS-021 Private Instrument Study: Bass

MUS-022 Private Instrument Study: Bass

MUS-121 Private Instrument/Vocal Study: Bass

MUS-122 Private Instrument/Vocal Study: Bass