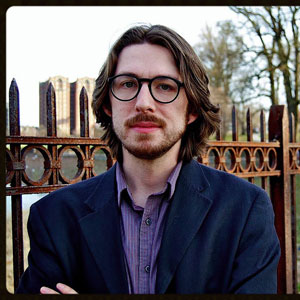 Sean Doyle

Sr Professorial Lecturer Department of Performing Arts
Bio

Sean Doyle is a composer and singer-songwriter who originally hails from Long Island, NY. He has written for various media, including concert works for large ensembles, art song and choral music, solo and chamber works, incidental music, film scores, and opera. Drawing upon widespread influences from literature and the visual arts, Sean's music demonstrates a unique personal voice that reflects a commitment to capturing the emotional capabilities of artistic expression.

His work Letters from Zelda, for soprano and chamber orchestra, was described by the Washington Post as a "vivid, eventful score… brilliantly written, full of the anything-goes spirit of the Jazz Age". Sean has collaborated on new works with such groups as the Great Noise Ensemble (Washington, DC), the Lunar Ensemble (Baltimore, MD), Trio Pico (Baltimore, MD), the DAS oboe trio (Seattle, WA), the Canticum Novum Chamber Choir (Baltimore, MD), the Rondout Valley HS Symphonic Band (Rondout Valley, NY) and the SUNY Fredonia Department of Theatre and Dance (Fredonia, NY).

Collaborations in the 2015-16 season include new works for the Decho Ensemble saxophone duo, the ANA Trio, soprano/guitar duo Lisa Perry and Jeremy Lyons, and a work for the Westhampton Beach HS Chamber Singers.

Sean is currently a Professorial Lecturer at American University, teaching composition and music theory. Prior to this, he served for six years teaching at SUNY Fredonia.

He maintains an active role as a conductor, overseeing many premieres of his own works as well as repertoire both traditional and contemporary.

As well as writing works for the concert hall, Sean continues to pursue his life-long interest in songwriting, and is currently completing a full-length album of original songs.

Sean holds a DMA in music composition from the Peabody Conservatory of Johns Hopkins University, and MM and BM degrees in composition from SUNY Fredonia. His primary teachers have been Dr. Donald Bohlen and Dr. Kevin Puts. Please visit his website: www.seandoylemusic.com.
Spring 2021
MUS-021 Private Instrument Study: Composition

MUS-022 Private Instrument Study: Composition

MUS-121 Private Instrument/Vocal Study: Composition

MUS-122 Private Instrument/Vocal Study: Composition

PERF-127 Musicianship II

PERF-127 Musicianship II
Summer 2021
PERF-120 Music Fundamentals

PERF-120 Music Fundamentals