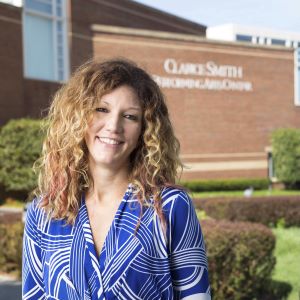 Erica Bondarev Rapach

Adjunct Professorial Lect Department of Performing Arts
Bio

Experienced in both the academic study and practical applications of arts management, Erica Bondarev Rapach has been working in the field for over 15 years and serving as adjunct faculty in American University's Graduate Arts Management Program for 7 years.
She is currently Acting Executive Director of The Clarice Smith Performing Arts Center at the University of Maryland where she is part of the team of campus leaders who collaborate around the strategic vision for the performing arts at Maryland. Erica is committed to aesthetic equity and inclusive access to the arts.
Previously the Associate Executive Director of The Clarice, she informed the design and implementation of partnership-based programs with both the campus and local community and created professional development opportunities for emerging arts leaders from populations underrepresented in arts management.
Erica began her tenure with The Clarice in 2009 as director of marketing and communications, where she oversaw media relations, advertising, promotions, and guest experience.
Erica came to The Clarice in 2009 from the Baltimore Symphony Orchestra, where she helped launch the BSO at Strathmore's marketing campaign, spearheaded the redesign of the orchestra's website, and initiated its digital marketing strategy.
A violinist by hobby, Erica played with the Volgograd Symphony Orchestra while a Peace Corps volunteer in Russia and initiated a first-ever U.S. tour for the group which led her to arts management. She received her Bachelor's degree in International Studies and Russian Language & Literature with a minor in music from Illinois Wesleyan University and is a graduate of American University's Arts Management Program.
Erica has been recognized as a leader in the field by the Association of Performing Arts Professionals and is currently the Board Chair for Dance Exchange in Takoma Park, Maryland. She has served on grant review panels for the arts in Prince George's County and Montgomery County, Maryland and the District of Columbia and was selected to serve as a Arts in Education Grant Policy Editor for the Maryland State Arts Council. She serves on the editorial board for the American Journal of Arts Management.
Erica is married to a fellow arts administrator, has two daughters who speak 3 languages, is fluent in Russian, and finds peace and purpose on her yoga mat.