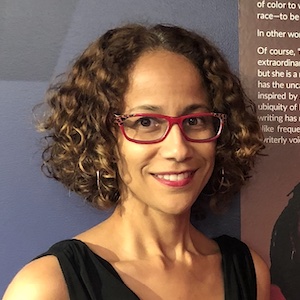 Faedra Chatard Carpenter

Assoc Professor Department of Performing Arts
Degrees

BA - English, Spelman College;
MA - Drama, Washington University;
PhD - Drama, Stanford University

Bio

Dr. Faedra Chatard Carpenter is a theatre and performance studies scholar, professional dramaturg, and cultural critic. Her research, writing, teaching, and creative activities are grounded in her advocacy for diversity, inclusion, and cultural fluency within a wide range of institutional spheres. Through her analysis of both staged performances and the performative practices of everyday life, Dr. Carpenter applies her expertise in expressive culture, creative collaboration, and dramaturgical methodologies to forge common understandings and illuminate issues regarding race, gender, class, and sexuality.

Dr. Carpenter's scholarly analysis can be found in a number of anthologies and peer-reviewed journals, such as: Diverse Dramaturgy, The Routledge Companion to Dramaturgy, The Cambridge Companion to African American Theatre, Theatre Survey, College Literature, Journal of Dramatic Theory and Criticism, Theatre Topics, Women & Performance, and Callaloo. Her book, Coloring Whiteness: Acts of Critique in Black Performance (University of Michigan Press), received the Honorable Mention for ATDS' John W. Frick Book Award for the best book in American theatre and drama as well as the Honorable Mention for ASTR's Errol Hill Award for outstanding scholarship in African American theater, drama, and/or performance studies. Among her most prized accolades, however, is receiving the American Theatre and Drama Society's Betty Jean Jones Award for being an Outstanding Teacher of American Theatre and Drama (2019).

A former resident dramaturg for Arena Stage and Crossroads Theatre Company, Dr. Carpenter has also worked as a freelance dramaturg for Mosaic Theatre Company, Theater J, ReVision Dance Company, The John F. Kennedy Center, The African Continuum Theatre Company, Baltimore Center Stage, TheatreWorks, and The Black Women Playwrights Group.
Spring 2023
PERF-115 Theatre:Prin,Plays & Perform

PERF-366 Theatre History II
Fall 2023
PERF-115 Theatre:Prin,Plays & Perform

PERF-115 Theatre:Prin,Plays & Perform