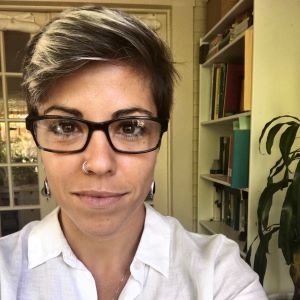 Martina Ferrari

Adjunct Professorial Lecturer Philosophy & Religion
Degrees

PhD candidate in Philosophy, University of Oregon

MA in Philosophy and Social Policy, American University

BA in Political Science, Delaware State University

Bio

Martina Ferrari is a doctoral candidate in philosophy at the University of Oregon specializing in 19th and 20th century continental philosophy (esp. phenomenology), feminist philosophy, and decolonial thought. In her dissertation, titled Decolonizing Silences: Toward a Critical Phenomenology of Deep Silences with Merleau-Ponty and Anzaldúa, she explores how coloniality limits Western understandings of the phenomenon of silence and contends that, approached from the phenomenological standpoint of concrete lived experiences, silence can be a fecund locus for the renewal of sense. She calls this generative silence deep silence. Her work has been published in the Journal of Speculative Philosophy, Hypatia, Chiasmi International, and the International Journal of Feminist Approaches to Bioethics. Ferrari also has co-edited a volume on Simone de Beauvoir, titled On ne naît pas femme : on le deviant, published by Oxford University Press, and co-founded Puncta: Journal of Critical Phenomenology.