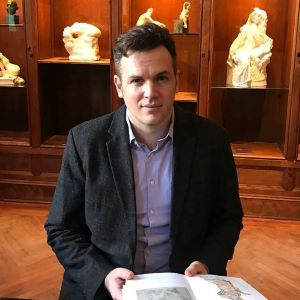 Joseph Harroff

Professorial Lecturer Department of Philosophy & Religion
Degrees

Ph.D. University of Hawai'i at Mānoa
M.A. Shandong University, Jinan, Shandong, People's Republic of China
B.A Valparaiso University, Valparaiso, Indiana

Bio

Joseph Harroff teaches philosophy and religion. His primary research interests are in the field of intercultural comparative philosophy, Chinese philosophy, American pragmatism, and methods of philosophical translation. He has recently finished translating Zhao Tingyang's The Tianxia System as a Possible World: Reimagining Visions of Global Order from the Past and for the Future (Forthcoming from University of California Press) and is currently working on a monograph that creatively reconstructs a non-foundational and anti-individualistic conception of personal agency, family-experience, moral imagination, social solidarity, and convivial cosmopolitanism drawing from early Confucian sources and more recent theoretical interlocutors.
Spring 2022
PHIL-120 Do the Right Thing

PHIL-211 Intro to Asian Philosophy

PHIL-211 Intro to Asian Philosophy
Summer 2022
PHIL-120 Do the Right Thing
Fall 2022
PHIL-120 Do the Right Thing

PHIL-211 Intro to Asian Philosophy

PHIL-211 Intro to Asian Philosophy