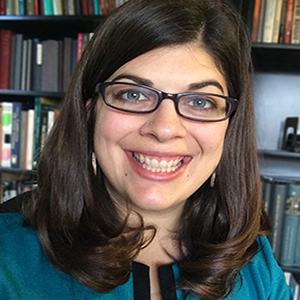 Julie Wesp

Professorial Lecturer Department of Anthropology
Degrees

PhD, University of California Berkeley

MA, University of California Berkeley

BA, University of Miami

Bio

I received my doctorate in Anthropology with a designated emphasis in women, gender, and sexuality from the University of California Berkeley and hold a BA in Latin American Studies and Anthropology from the University of Miami. I specialize in bioarchaeology and Mesoamerican complex societies with excavation experience in various regions, including Central Mexico, Honduras, and the Yucatan Peninsula.

I am particularly interested in understanding the lived experiences of individuals in past. As a bioarchaeologist, I use skeletal remains to help illustrate not just what kinds of activities people performed in the past, but who was doing it. My recent research focuses on using non-invasive techniques to record how biomechanical stress from daily life activities become incorporated into bone. These changes to the body can help us better understand what kinds of activities people performed in their daily lives and if there was a pattern of organization of labor among specific groups of people. Currently, I am working on a project that studies the daily lives of urban inhabitants in colonial Mexico City, including a group of Afro-descendants and a project that analyzes skeletal remains from the colonial Jesuit church of Templo San Ignacio in Bogotá, Colombia.
Scholarly, Creative & Professional Activities
Selected Publications
Exploring Sex and Gender in Bioarchaeology (co-edited with Sabrina C. Agarwal), University of New Mexico Press, 2017.
"Embodying Sex/Gender Systems in Bioarchaeological Research," 2017, In Exploring Sex and Gender in Bioarchaeology, Sabrina C. Agarwal and Julie K. Wesp, eds, pp. 99 - 126.
"Caring for Bodies or Simply Saving Souls: the emergence of institutional care in Spanish Colonial America," 2016, In New Developments in the Bioarchaeology of Care: Case Studies and Extended Theory, Lorna Tilley and Alecia Schrenk, eds., pp. 253 - 276.  
"Bioarchaeological Perspectives on the Materiality of Everyday Life Activities," Archaeological Papers of the American Anthropological Association, 2015, 26:139 - 148. 
"Cloth Production and Economic Intensification in the Area Surrounding Chichén Itzá" (with Traci Ardren, T. Kam Manahan, and Alejandra Alonso), Latin American Antiquity, 2010, 21(3): 274 - 289. 
Research Interests
Bioarchaeology; Colonial Latin America (Central Mexico, Yucatan peninsula, Colombia); Mesoamerican archaeology; Afro-Mexican research; gender; embodiment; materialities; critical-race theory; bone biomechanics; activity analysis; labor organization
Grants and Sponsored Research
2017, College of Arts and Science Mellon Fund Faculty Research Grant, American University. "Genetic Analysis of Ethno-Geographic Origins of Africans and African Descendants in Colonial Mexico"
2015 - 2016, UC MEXUS/CONACYT Postdoctoral Research Fellowship, "The Archaeology of Afro-Descendants in Colonial Mexico: integrating ethnohistorical and archaeological evidence"
2013 - 2014, UC MEXUS Dissertation Research Grant, "Bioarchaeological Evidence of Gendered Labor in Colonial Mexico"