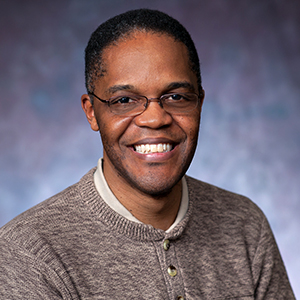 Keith Leonard

Associate Professor Literature
Additional Positions at AU

Faculty Director, Frederick Douglass Distinguished Scholars Program
Director, African American and African Diaspora Studies Program

Degrees

PhD, Stanford University MA, UNC Chapel Hill BA, English, Yale University

Languages Spoken

French

Bio

Keith D Leonard is the author of Fettered Genius: The African American Bardic Poet from Slavery to Civil Rights. His publications, presentations, and courses have revolved around his study of political consciousness in African American poetry and poetics and in hip-hop culture. His current interests include African Americans artists in Paris, jazz in African American culture, and the conception of love, sexuality, and family as political ideals by black writers. He is currently working on a book project exploring the legacy of civil rights movement activism, Black Nationalist ideals, and African American social mobility for contemporary African American avant-garde artist collectives, from Umbra to the Dark Room Collective to Cave Canem.
Partnerships & Affiliations
George Moses Horton Society for the Study of African American Poetry
Member (1998-present)
Scholarly, Creative & Professional Activities
Selected Publications
 Fettered Genius: The African American Bardic Poet from Slavery to Civil Rights. Charlottesville: University of Virginia Press, 2006

"Postmodern Soul: The Innovative Nostalgia of Thomas Sayers Ellis," Contemporary Literature 56.2 (Summer 2015): 340-371.  Winner of the L. S. Dembo prize for best article of the year.

"'Which Me Will Survive': Rethinking Identity, Reclaiming Audre Lorde."                        Callaloo 35.3 (Summer 2012): 758-777   

"Yusef Komunyakaa's Blues: The Postmodern Music of Neon Vernacular" Callaloo 28.3 (Summer 2005): 825-849.
"Jazz in African American Literature" Blackwell's Companion to African American Literature  (Malden, MA: Wiley-Blackwell, 2010): 286-301.  
"We Wear the Mask: The Making of An African American Poet" Cambridge History of African American Literature (New York: Cambridge University Press, 2011): 209-219.
"African American Women Poets and the Power of the Word."  Cambridge Companion to African American Women's Literature (Cambridge: Cambridge University Press, 2009): 168-186.  
"Verse Center: A Special Issue on Multi-Ethnic Poetics" Melus 35.2 June 2010 (co-editor)
Professional Presentations
 "Tupac: Resurrection" for National Portrait Gallery
"Mobilizing the Jazz Age: The Great Gatsby and "The New Negro" for the "Wisdom Wednesday Program" "The Big Read" sponsored by The National Endowment for the Arts, May 21, 2008
"Hip-Hop Poetics" at George Washington University, April 28, 2003
"Hip-Hop Poetics" at Diversity Day, Packer Collegiate, Brooklyn NY. February 26, 2003
Multimedia
Contribution to Poetry Foundation podcast on the career of Langston Hughes.February 19, 2007.