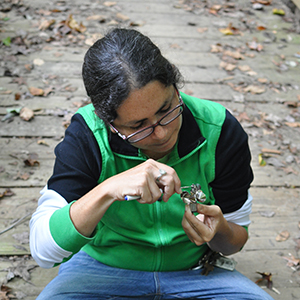 Karen Knee

Assistant Professor Department of Environmental Science
Degrees

Sc.B. with honors in Environmental Science, Brown University, 2002

PhD in Geological and Environmental Sciences, Stanford University, 2010

Favorite Spot on Campus

Battery Kemble Park

Bio

I grew up in Charleston, SC, and the happy days I spent at the beach gave me a lifelong love of the water. I left home to pursue a degree in Environmental Science at Brown University, and after graduation I worked as a cook, lab tech, freelance journalist and shipboard environmental educator on a historic schooner in New Jersey. I attended grad school at Stanford University in Palo Alto, CA (also close to some amazing beaches), traveled to Ecuador on a Fulbright grant to research land use and water quality in the cloud forest, spent a year and a half studying nutrient pollution to the Chesapeake Bay watershed at the Smithsonian Environmental Research Center, and now here I am. In addition to teaching and conducting research in environmental science, I enjoy hiking, biking, swimming, cooking, traveling, reading novels, hanging out with my dog Moby, and visiting the amazing array of free museums that this city has to offer.