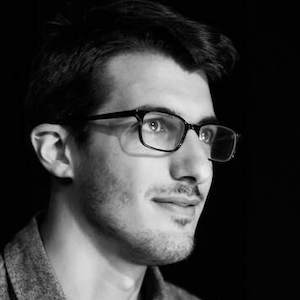 JP Merz

Professorial Lecturer Department of Performing Arts
Degrees

DMA, Composition, University of Southern California
MM, Composition & Music Tech, University of Colorado Boulder
BM, Composition & Music Theory, Lawrence University

Bio

JP Merz is a composer whose music investigates accessibility, equity, and empathy while questioning notions of virtuosity and encouraging subtle listening. His music has been performed by yMusic, Altius Quartet, Brightwork newmusic, Playground Ensemble, Sound of Ceres, and the Colorado Music Festival Orchestra, as well as by members of the Wild Up and the Colorado Symphony Orchestra. His work has been featured by and played in Carnegie Hall, Spoleto Music Festival, New Music Gathering, Madison New Music Festival, HEAR NOW Music Festival, the Abrons Arts Center, the National Flute Association, ACRE gallery, VICE's Creator's Project, Boulder Museum of Contemporary Art, and I Care if You Listen, as well as record stores, cafes, and living rooms. In addition to composing for musicians, he has collaborated with dancers, algorithms, electrical engineers, internet researchers, and robots.

JP is a recipient of the ASCAP Foundation's Leonard Bernstein Award, the INSITE Fund presented by RedLine Contemporary and the Andy Warhol Foundation, and the American Composers Forum's Jerome Fund for New Music. His piece, the be able to be not, is included on the self-titled album by Lilith, released on National Sawdust in 2018. Current projects include a new commission for yMusic, an orchestra work on gun violence, and a collaboration with Maya Livio on birds, AI, data, and conservation.

JP holds a doctorate (DMA) in composition from the University of Southern California and has taught at the University of Southern California and the University of Colorado Boulder.
Spring 2022
MUS-021 Private Instrument Study: Composition

MUS-022 Private Instrument Study: Composition

MUS-121 Private Instrument/Vocal Study: Composition

MUS-122 Private Instrument/Vocal Study: Composition

PERF-110 Understanding Music

PERF-125 Music Theory II

PERF-442 Adv St in Music Anlys/Perform: Improv in Theory & Practice
Fall 2022
MUS-021 Private Instrument Study: Composition

MUS-022 Private Instrument Study: Composition

MUS-121 Private Instrument/Vocal Study: Composition

MUS-122 Private Instrument/Vocal Study: Composition

PERF-110 Understanding Music

PERF-110 Understanding Music

PERF-124 Music Theory I