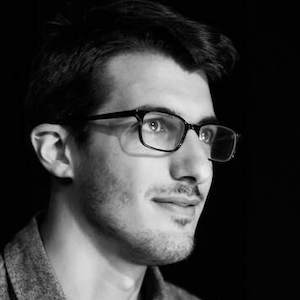 JP Merz

Professorial Lecturer Department of Performing Arts
Degrees

DMA, Composition, University of Southern California
MM, Composition & Music Tech, University of Colorado Boulder
BM, Composition & Music Theory, Lawrence University

Bio

JP Merz is a composer, sound artist, and educator. His work, both instrumental and electronic, interrogates the materiality of sound through experimental uses of technology—from networked algorithms to spectral analysis to AI. Centering environmental and social justice, his recent projects have reflected on systemic violence, investigating mass shootings, the climate crisis, and biodiversity loss. 

Merz's music has been performed by yMusic, Altius Quartet, Playground Ensemble, Sound of Ceres, and the Colorado Music Festival Orchestra, as well as by members of Wild Up and the Colorado Symphony Orchestra. His work has been featured by and played in Carnegie Hall, New Music Gathering, San Francisco Fringe Festival, the Abrons Arts Center, ACRE gallery, VICE's Creator's Project, Boulder Museum of Contemporary Art, and I Care if You Listen.

He is a recipient of New Music USA's Creator Development Fund, the ASCAP Morton Gould Young Composers Award, the American Composers Forum's JFund for New Music, and the ASCAP Leonard Bernstein Award, as well as special distinction for the Rudolf Nissim Prize. As he often works across disciplines, his collaborators include dancers, engineers, researchers, algorithms, and robots.

JP holds a doctorate (DMA) in composition from the University of Southern California and teaches theory, composition, and improvisation at American University, previously teaching at the University of Southern California and the University of Colorado Boulder.
Spring 2023
MUS-021 Private Instrument Study: Composition

MUS-022 Private Instrument Study: Composition

MUS-121 Private Instrument/Vocal Study: Composition

MUS-122 Private Instrument/Vocal Study: Composition

PERF-110 Understanding Music

PERF-125 Music Theory II

PERF-205 Masterpieces of Music
Summer 2023
PERF-110 Understanding Music
Fall 2023
MUS-021 Private Instrument Study: Composition

MUS-022 Private Instrument Study: Composition

MUS-121 Private Instrument/Vocal Study: Composition

MUS-122 Private Instrument/Vocal Study: Composition

PERF-110 Understanding Music

PERF-124 Music Theory I

PERF-126 Musicianship I