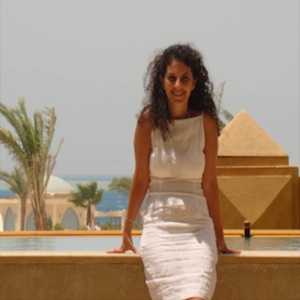 Randa Serhan

Assistant Professor Sociology
Degrees

PhD, MPhil, MA, Sociology, Columbia University
MA, Sociology, University of Windsor
BA, Sociology, American University of Beirut
HS, American School of Kuwait

Bio

Randa Serhan is a political sociologist who is interested in immigrant communities, nationalism, and citizenship. She began graduate school in Canada where she was interested in gender and law. Since then she has worked on PTSD in post-conflict Lebanon, meanings of refugeeness, and second generation Palestinian-Americans.

Randa joined AU as an assistant professor in Sociology and the director of Arab Studies in 2011. In 2013, under her leadership, Arab World Studies became a full degree-granting program offering a BA in Arab World Studies.

In 2015, Randa returned fulltime to the sociology department in order to focus on her scholarly research and writing.

Her publications include "Palestinian Weddings: Inventing Palestine in New Jersey," a co-edited book titled, "American Democracy and the Pursuit of Equality," and "Muslim Immigration to America." She is currently converting a data from a 7-year ethnography in metropolitan New York into a book tentatively titled, "Assimilation Suspended: The Making of Palestinian Americans."
Beyond working on her manuscript, she is also studying NYPD surveillance of Arab Americans and looking to expand this work to Washington, DC.

Randa has taught courses on urban ethnography, immigration to the United States, political and classical theory, sociology of exclusion, and social movements.

Broader Interests: Qualitative methods, sociological and political theory, race and ethnicity, nation-state formation and citizenship.

Scholarly, Creative & Professional Activities
Research Interests
Randa Serhan's research interests include: Citizenship and Nationalism, Political Theory, Immigrant Communities, Assimilation and transnationalism, and Gender and Law.    
Honors, Awards, and Fellowships
   
School of International and Public Affairs, Columbia University, Cordier Fellow, 2007-2009
   
Palestinian-American Research Center, Villanova University Grant: 2005-2006
   
Columbia University, Summer Grant: 2003, 2004, 2005, 2006
   
Columbia University, Lazarsfeld Fellow: 2002 -2007
   
New School University, Graduate Faculty Scholarship: 2001
   
Saeed Khoury Scholarship: 2001
   
Oxford University, Swedish Government Grant for Refugee Studies Program, 1999
   
University of Windsor, International Student Fee Waiver: 1996
   
Abdulaziz Shakhshir Scholarship: 1995
   
University of Windsor, Graduate Fellowship: 1994-1995
   
American University of Beirut, Undergraduate Scholarship: 1992-1994
Selected Publications
   
"Palestinian weddings: Inventing Palestine in Jersey," Journal of Palestine Studies, UC-Berkley Press, Summer 2008.  Peer reviewed.
   
"Palestinian and Jordanian Migration to the United States," Multicultural America: An Encyclopedia of the Newest Americans. ABC-CLIO Publishers, July 2011
   
Co-editor, Democracy and Public Participation in American Life, Paradigm Publishers,May 2011.
   
Manuscript, Suspended Community: Palestinian exile through American ethnicity(proposal preparation)
Area of Expertise
Identity politics, citizenship, Palestinian Americans, Arab societies, Arab youth membership
Additional Information
Serhan previously taught a course on nation-state building at American University of Beirut. This course grew into another course on social movements in answer to her students' frustration with the lack of evidence of nation-state building in the Arab world. Her original research was on Palestinian American youth and the sense of belonging or lack thereof in the American polity, but upon returning to the Arab world, she realized the same dilemmas existed for Arab youth and accordingly switched her field site. Serhan has published on Palestinian-American weddings as an expression of nationalism. She also taught at the School of International and Public Affairs, where she developed an appreciation for policy-oriented questions, while still intent on finding sociological explanations and answers.