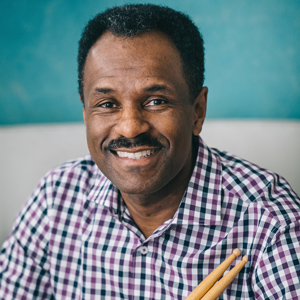 Harold Summey

Adjunct Instructor Department of Performing Arts
Bio

Harold Summey, a Newport News, VA native, has been a drummer/percussionist for over thirty years. The individuals he has performed with as either drummer or percussionist include Sonny Rollins, Clark Terry, Buck Hill, Harold Mabern, Eric Alexander, Gunther Schuller, Wynton Marsalis, Geri Allen, Pat Metheny, Whitney Houston, James Moody, John Hicks, David "Fathead" Newman, Don Braden, Brian Lynch, Charlie Young, Tim Warfield, Walt Weiskopf, Terrell Stafford, Nick Brignola, Ray Charles, Patti Austin, Aaron Neville, Bobby Watson, and Frank Sinatra, Jr.

Ensembles he has played with as percussionist and/or soloist include The Cleveland Orchestra, The Virginia Symphony, The American Festival Pops Orchestra, The Smithsonian Jazz Masterworks Orchestra, The Annapolis Symphony, and The Maryland Symphony. He is currently a member of The United States Army Band "Pershing's Own" in Washington, DC where he has performed as percussionist and soloist with the Concert Band since 2000. Mr. Summey was also a member of The United States Navy Band in Washington, DC from 1989 to 1993 where he also served in the Concert Band.

In 1992, Mr. Summey was the first prize winner of the Thelonious Monk International Jazz Competition.

Mr. Summey is also an educator. He has done clinics and master classes for the Thelonious Monk Institute of Jazz in the United States and abroad as well as at Hampton University, Howard University, George Mason University, and The University of Colorado, Boulder for its Mile High Jazz Camp. He is currently on the faculty at Howard University, American University, and George Mason University.

Mike Joyce of the Washington Post said of Summey: "Like 'Philly' Joe Jones, an obvious role model, Summey excelled at developing a swinging, crisply articulated momentum that was as notable for its melodic appeal as for its rhythmic power." Terry Perkins of the St. Louis-Dispatch said of a concert performance with alto saxophonist, Bobby Watson's group, Horizon: "Summey...fit right into Horizon, driving the group with percussive power when called on, and laying down a solid groove throughout...."