Health Studies
4400 Massachusetts Avenue NW
Washington
,
DC
20016
United States
Selected Student Profiles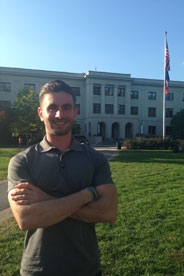 Chase Chewning

After a couple of years in the Army, Chase attended the Virginia Commonwealth University where he majored in Exercise Science. He then went on to be a full time, in-house health coach for a physician's office in Richmond. After finding the MS.HPRM program at American University, he knew it was the place for him. His commute was long, but luckily, all the required classes never start until 5:30pm. (Good News Update: The physician's office transferred him to their DC location and now his commute is quick). Even so, he says the program is flexible, allowing him to study when it's best for him. He loves that the classes are less textbook oriented and focused more on what's going on in the world right now. After he graduates from AU, Chase, his brother, and friends are opening a gym that will focus on rehabilitation after Physical Therapy. Chase is very family orientated and can't wait to be his own boss. He says that he loves DC because it's active and offers the greatest food and history lessons. His best advice for anyone is to network! He says to never turn down an event or a chance to meet someone new because you never know where it may lead.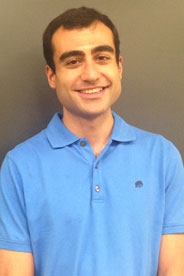 Yasha Ghamarian

Yasha is a Bethesda, Maryland native. After graduating from Virginia Tech he tested his skills in Sports Journalism and as a marketing research analyst. He decided both paths were not for him and wanted to go back to school. He tested out classes in public health, and still it did not feel right. Finally, he met an American University graduate, and after talking, he decided to look into the MS. HPRM program they offer. He says the program has been beyond great because the schedule is flexible; however, the very best part of the program is the research opportunities. In his first year he was approached by Dr. Snelling dean of the program, who gave him an opportunity to be a part of an USDA funded research team, to access the behavioral-economic impact of fruit and veggie consumption in 12 area schools. Last summer, he was approached by Dr. Roberts, a professor at AU, who offered him a job teaching nutrition to children at a local summer camp. The experience has been irreplaceable, and will be of great help to him as he follows his future goals. After a few more years in the health work field, Yasha hopes to get his PhD and become a university nutrition professor. He says that AU is the place to be if you want to learn about the best internships, have an opportunity to get to go to great conferences, and if you want to work alongside faculty and don't just want to be another face in the crowd.