Research
The Healthy Schools Act, Five Years Later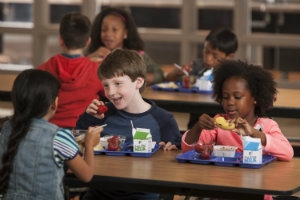 When children eat well and get regular physical activity, they are better able to learn, according to recent research. Five years ago, Washington, DC, decided to face this reality head on, to help students who were suffering from poor nutrition and lack of exercise, and as a result, were falling behind in the classroom.
The DC Council passed the Healthy Schools Act (HSA), landmark legislation that provided funding to DC public and public charter schools to provide free, nutritious meals and more physical education for students. The schools were required to document their efforts to implement the law's provisions.
During the five years since the act was passed, American University and Kaiser Permanente have partnered to assess its impact on DC children. At AU, the assessment was led by Stacey Snelling, dean of the School of Education and department chair of health studies and Sarah Irvine Belson, executive director, Institute for Innovation in Education. They compiled and analyzed data on the following components of the Act: School Meals, School Gardens & Farm to School, Local Wellness Policy, School Nurses, Health Education, and Physical Education.
Earlier this month, they released their findings in a comprehensive 22-page report.
Overall the news was good, according to Snelling. "The Healthy Schools Act has been very effective at allowing schools to become healthy environments. Through the nutritious food served, the funding for school gardens and physical activity, and the increased focus on health and physical education, schools are able to support the whole child and ensure that students are healthy and ready to learn."
Highlights from Report

School Meals
The percentage of schools that indicated their meals met or exceeded the HAS's nutritional requirements rose from 90 percent at the beginning of the study to 99.5 percent in 2015.
The HSA requires all schools to offer free breakfast to all students, and by 2014, 70 percent of low-income students were enrolled in school breakfast programs.
School Gardens & Farm to School
The HSA requires funds to be used for school gardens, which boosted the prevalence of gardens by nearly 10 percent in five years.
In 2015, more than 95 percent of schools reported serving locally grown and/or locally processed foods to students.
Physical Education
Though physical education minutes did not reach the current HSA requirements, physical activity has risen in schools across the city.
The average minutes of physical education rose by more than 10 minutes per week for children in elementary school, and more than 30 minutes per week for children in middle school
A Critical Problem
District schoolchildren are at risk of serious health problems stemming from poor nutrition and inadequate physical activity. According to the report, "research demonstrates a relationship between sedentary lifestyle, obesity, and cognitive deficits beginning in childhood and continuing across the lifespan."
The health statistics in Washington, DC, are dramatic. Nearly half of households with children in the District of Columbia can't always afford to buy enough food to feed their families. Only 19 percent of children get the USDA-recommended five fruits and vegetables a day. Forty-three percent of DC schoolchildren are overweight or obese. And only 30 percent of these children do 60 minutes of physical activity per day.
"The Act is critical for DC school children," said Snelling. "With one of the highest pediatric obesity rates in the nation, DC must continue to place an emphasis on the health needs of students. Physical activity, health education, nutritious meals, access to drinking water-these, among others, provisions of the Act allow students to learn in a healthy environment."
What's Next
The American University team has recommended to DC Council that the evaluation project continue if funding can be identified. "After five years of the Healthy Schools Act, many of the activities of the HSA are vital to DC's children, and increased focus on health and wellness in DC can and should continue," the report stated.
The funds would be used to continue monitoring the school health environment and to possibly conduct a student-level analysis on the impact of the improved school environment.
More Information
For more data about how DC schools are improving opportunities for healthy lifestyles among students, download the full Five-Year Report on the Healthy School Act.
For more information about AU's Health Promotion Management Program, visit the website of the Department of Health Studies.