Romanov Russia (1613-2013)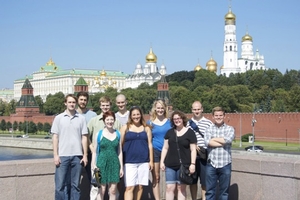 As part of American University's Initiative for Russian Culture (IRC), Professor Anton Fedyashin will take ten students to Russia next summer to explore the origins, history, and legacy of the Romanov dynasty. "Romanov Russia (1613-2013)" will be a 3-credit course open to all graduate and undergraduate students within the Consortium of Universities of the Washington Metropolitan Area. Selection will be based on academic merit and the quality of the application. The course textbook will be Lindsey Hughes's Romanovs: Ruling Russia 1613-1917, which students will discuss during a daily seminar. The trip will take students to Kostroma, Moscow, and St. Petersburg. The course will culminate in a 15-page paper.
The first IRC-sponsored study abroad trip happened last July, when Professor Fedyashin traveled with eight students from American University and two from Georgetown University to Moscow and St. Petersburg for the course "Dostoevsky's Russia." They visited the places where Russian writer Fyodor Dostoevsky lived and worked and visited sites described in Dostoevsky's Crime and Punishment. With Crime and Punishment as the focus, students examined the connections between Dostoevsky's life and characters and discussed themes such as the crisis of religion during the nineteenth century.
The Initiative for Russian Culture at American University promotes greater understanding of Russian culture's versatility and richness among all consortium students in the Washington area. Through innovative programming and courses in Russian art, history, literature, and politics, the IRC offers AU and consortium students new perspectives on Russia.