In the Community
Marking History
AU public history students work to tell the stories of one of America's most moving landmarks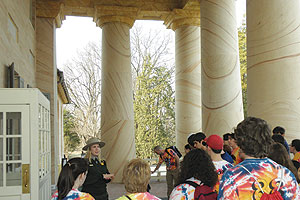 Just before one hour bleeds into another on an unseasonably warm March morning, the masses begin filing onto the Memorial Amphitheater steps across from the Tomb of the Unknowns.
The changing of the guard that perpetually stands vigil over this iconic American landmark is a can't-miss for most of the four million camera-clutching tourists who each year visit Arlington National Cemetery, one of the most poignant and powerful plots of U.S. soil.
Yet most of the cemetery's 624 rolling acres remain a mystery to the public, an unfortunate fact that American University history professor Kathleen Franz and a handful of her students are hoping to change.
Working with the National Park Service, Franz and her public history graduate students have developed an interpretive plan to create 20 to 25 wayside exhibits—informational signs—that would educate visitors about important sites throughout the cemetery and Arlington House, once Robert E. Lee's home.
"People get a certain level of interpretation from their tourmobile guide, but if they start walking around there's nothing to tell them what they're seeing or why it's important," Franz says. "Arlington Cemetery is full of monuments put there mostly in the nineteenth and twentieth centuries to remind the American public of their great losses. But the memorials don't speak to us the way they spoke to Americans in, say, 1910, so what we've done is go back and mark the markers to give people more historical context."
The project largely is the result of collaboration between Franz and her former student, Emily Weisner, CAS/MA '07, now a park ranger at Arlington House. Located on 19 acres within the cemetery, which is a Department of the Army entity, Arlington House was built by Martha Washington's grandson, George Washington Parke Custis, and his slaves. It was a working plantation and home to the Custis-Lee family for three decades before the Union army occupied it during the Civil War and began burying fallen soldiers on its grounds.

"We were looking for ways to partner with the cemetery, and we thought this was a great way to draw attention to some of the lesser known stories," Weisner says. "People come and they know about Arlington House and they know about Kennedy's grave and the changing of the guard, but there are so many sections of this place that nobody thinks about visiting. We'd like to tell the stories of the nurses'
section, or the chaplains' section, or the astronauts who are here."
Arlington Cemetery is a paradox. The final resting place for more than 300,000 of the nation's bravest warriors and greatest leaders—presidents, Supreme Court justices, generals, explorers, athletes—is also an unquestioned tourist attraction.
"There are few wayside exhibits in Arlington because we are still a very active cemetery," says Thomas Sherlock, Arlington's official historian. "There are 27 to 30 funerals a day, and we don't have signs in our active burial sections. But we would place some of these signs in our older sections to educate visitors on the historical significance of locations in the cemetery. These signs will put a historical perspective on not only Arlington's history, but also the history of our armed forces and country."
Since 2008 about 10 students have worked on the project. They began by researching the cemetery and Arlington House, studying visitation patterns, and identifying specifically which landmarks might benefit from a wayside exhibit.
"Interpretation is important for public history because it gets us all talking about the past," Franz says. "What it meant then but also what it means for our lives today. This is a very important public space, and it contributes to our civic life in deep ways."
After selecting more than 20 sites for signs, students researched, wrote, and designed five. Loren Miller '10 worked on a wayside for the Women's Memorial, which was dedicated in 1997.
"I wanted to focus on the process of creating the memorial," she says. "It wasn't created until the early '90s, and women have been serving in the military since World War I. I was interested in why their
official memory wasn't created until the '90s. I didn't want to come to a conclusion, I just wanted to make visitors question that. The thing about public history is not necessarily to give visitors answers, it's to have them question themselves."
Other exhibits already created include Freedmen's Village, a community of former slaves that included a hospital, church, and school in what is now Section 47 of the cemetery. 

"There's no imprint on the property, so the sign will address the place and connect it to Arlington House, where some of the slaves worked, and back to Section 27, where a lot of former residents of Freedmen's Village are buried," Weisner says. "It allows people to have a more complete experience."
The five completed signs are in the hands of the park service for review. Whether the exhibits, which cost about $2,000 each, are produced is up to the park service and cemetery. While that process unfolds, a new group of Franz's students continues to create more.
"There's no way I could train public historians without a class like this, which is based on learning by doing," Franz says. "You can learn how to write a history paper in a history class, but you couldn't really learn how to do this kind of public work unless you were working on a team, with a partner, with a real objective subject to the same constraints that it would be if you were working on site."
Shortly after one soldier from the Third U.S. Infantry assumes the guard over the Tomb of the Unknowns from another, in a ceremony sure to send goose bumps up the spine of even the most indifferent observer, most of the tourists quickly disperse.
None stroll to the north, where in Mary Lee's rose garden stands another tomb of unknown soldiers, this one honoring 2,111 nameless men slain in the Civil War. If a wayside exhibit, above, slated for this tomb is constructed, perhaps its inhabitants won't rest so alone.