Humanities
Video: Prof. Dargan Discusses Divided D.C.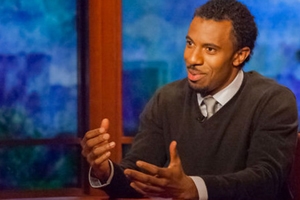 Professor Kyle Dargan lives in Southeast, Washington, D.C., a starkly different community, he says, from the more affluent Northwest part of the city he teaches in at American University. 
The poet recently spoke about his efforts to reconcile different cultural environments on the PBS show Moyers & Company.
"Everyday I am forced to deal with those realities and reconcile them in my head. And I think that commute that I have to deal with every week comes out in my poetry," Dargan said on the program. "I feel like often I am trying to reconcile or make sense of these conflicting worlds that geographically aren't that far from each other."  
WATCH: Dargan speaks with Bill Moyers
The Newark, N.J., native is an assistant professor in the Department of Literature at AU. He spoke on the program about the challenges children in the city are facing, including drugs, violence, and poverty.
"Lots of good kids just get caught up in trouble [...]," Dargan said. "Sometimes you lose to the environment and that's what you see with a lot of good kids. They lose to the environment."

He also read excerpts from poems, "A House Divided" and "We Die Soon," on the program.