Achievements
Nadell Earns Top Honor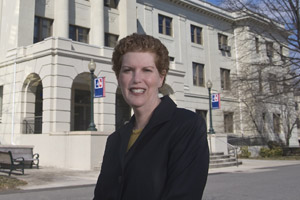 This April, history professor Pamela Nadell was named the 2010 winner of the Lee Max Friedman Award. The award is given annually by the Academic Council of the American Jewish Historical Society (AJHS) to an individual, group, or association deemed to have rendered distinguished service in the field of American Jewish history. The AJHS will present Nadell with the award at its Biennial Scholars' Conference on American Jewish History in New York this June.  
The program chair of AU's Jewish Studies Program, Nadell specializes in American Jewish history and women's history. Her books include Women Who Would Be Rabbis: A History of Women's Ordination, 1889-1985 (Beacon Press, 1998), which was a finalist for the National Jewish Book Award and a main selection of the Jewish Book Club. She is a past chair of the Academic Council of the American Jewish Historical Society and has served as a museum consultant for the Library of Congress and the National Museum of American Jewish History in Philadelphia.
Founded in 1892, AJHS is the oldest national ethnic historical organization in the nation. The society established the Lee Max Friedman award in 1960 in memory of its past president Lee Max Friedman.