Internships
Internship Benefits Go Beyond Professional Experience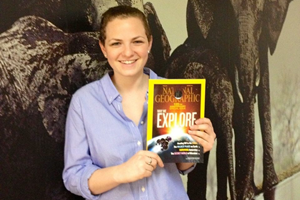 Below is a first person account from Dean's Intern Emily Good on her internship at National Geographic.

During my second week of interning at National Geographic, I had the opportunity to hear Cory Richards speak. An editorial, expedition, and cultural photographer, Richards was a National Geographic 2012 Adventurer of the Year for becoming the first American to successfully summit an 8,000-meter peak in winter. Listening to Richards, I was not only inspired but in awe that viewing his photographs and film from a recent expedition to Antarctica was just another typical day at work.

As a Dean's Intern at National Geographic, this is just one of many unique opportunities I am offered daily. I have laid out 16,407 shoes with NG Kids to set a Guinness World Record for the largest collection of recycled shoes (Taylor Swift's included), assisted with gathering content for the new photography exhibit at NG Museum, "Beyond the Story: National Geographic Unpublished," and worked a press event for the opening of the "Real Pirates" exhibit at NG Museum.

While these opportunities have opened my eyes to the different kinds of work at National Geographic and taught me invaluable on-the-job skills, it is my co-workers and assignments within the Communications Department that have provided me with the most experience thus far.

Utilizing what has been taught in my SOC courses at American University, I have been required to assist with media research and lists, press mailings, brainstorming promotional and press materials, and internal events hosted by National Geographic. My supervisors never fail to keep me updated on ongoing projects and discussions in the department, and the department is comprised of hard workers who are more than willing to share their experiences both inside and outside the field.

I hit it off with the one other intern in my department, a senior at University of Maryland, on day one. Discovering our mutual acquaintances and similar ambitions, she has played an integral part in my internship at National Geographic and has become the best lunch buddy I've had to date.

I began my internship by reading a packet of letters written by previous interns to the. They reassured me that I would eventually find my groove with the office dress code after most likely being overdressed for my first day, and told me whom in the department I needed to befriend and ask to lunch. Toward the end of my internship, I will write my own letter to the next generation of interns and detail all of the amazing opportunities they have to look forward to at National Geographic.

This internship has been unlike any other, and I know I will never look at the "yellow border" that signifies National Geographic in the same way.