Alumni
Lonnie Bunch Leads New African American Museum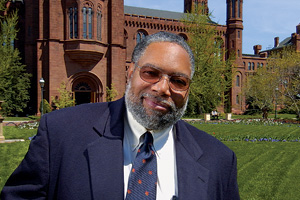 Today is the groundbreaking ceremony on the National Mall for the Smithsonian's National Museum of African American History and Culture.  Historian Lonnie Bunch, CAS/BA '74, MA '76, is the founding director of the new museum.This article was first published in American magazine in the summer 2005 issue shortly after Bunch was named founding director.
Lonnie Bunch, CAS/BA '74, MA '76, wasn't yet five when he gazed at the faces of unknown children and started to wonder. His grandfather was reading to him from a storybook full of black-and-white photos when the older man spoke words that would stay with Bunch a half century later.
"These children are probably dead by now," he said, and then told his grandson something just as startling. "No one knows the names of those children. Isn't it a shame that they lived their lives and died and just ended up in a book as anonymous?"
Bunch still recalls his amazement. "It drew me up short. When you're a little kid you can't think of kids being dead," he says.
The young boy from New Jersey began to peer intently at pictures of long-gone people as if they held secrets that could be uncovered. If only he looked a little harder, perhaps, he could make the past emerge before his eyes.

"Were they happy?" he'd wonder as he looked. "Were they sad? Did they have a good life? Were they discriminated against?"
The pursuit of those questions would lead him to become a highly regarded historian and museum director who has now taken on a challenge that will find him making history in the world of museums. Bunch was tapped in March to serve as the founding director of the Smithsonian's National Museum of African American History and Culture.
It will take around $400 million and 15 years before the museum opens its doors. Authorized by Congress only two years ago, the museum is still at such an embryonic stage that a site hasn't yet been chosen. The decisions made by Bunch, and the direction in which he leads it, will determine the shape of what is sure to become one of America's leading cultural institutions.
It's a huge responsibility. The person taking it on is a bearded, avuncular 52-year-old who greets guests to his office with a warm smile, a big hug, and "a very vigorous handshake," says history professor Alan Kraut. "He always makes a big impression. He's friendly; he's bubbly; he really lights up a room."
It was the library that first drew him to campus. He loved pouring through books, and one day made a trip to the AU library from Howard University, where he was a sophomore. Bunch ended up in a discussion with history professor Dorothy Gondos Beers (who died at age 95 this February) about his lifelong passion for history.
Even in elementary school, he had been  a voracious history reader. Elias Howe. Mad Anthony Wayne. Any biography on the library shelf was likely to end up in his hands. Another passion was collecting the trading cards issued during the Civil War centennial of individual soldiers with biographical details on the back. "I was fascinated by that," he recalls. "'Wow! I can find out about these people!'"
But he wasn't sure if history could be a practical major. Talking with Beers, he made a decision. "She was really the first professor I spent a lot of time with, and her willingness to do that impressed me," he recalls. "It seemed she spent hours giving me books to read, talking about what I was interested in, really making me feel I could major in history and be a historian. The excitement she shared with me cemented the direction I was going."

Bunch transferred to AU and worked under Beers, doing a senior thesis on the relationship between black and white soldiers during the Civil War. At the time, African American history was a small field barely noticed by historians. Yet Bunch had learned more about it as a child than many scholars. Bunch's father was a lover of conversation who talked with his children about current events, literature, and philosophy, and often seemed to throw in the comment, "I read this John Hope Franklin's book." The seemingly obscure reference was to a seminal 1940s book by a groundbreaking black historian, From Slavery to Freedom: A History of Negro Americans. In the course of family conversations, the blanks in history were filled in for the Bunch children. By the time Bunch was nine, he already knew that not all blacks in antebellum America had been slaves — a fact known to few people beyond historians even today.
His historical imagination was also sparked by family gatherings in New Jersey and North Carolina. The young Bunch would hear stories about his father's great-grandmother, known in the family as "Grandma Jane," who had been a slave. He'd hear stories about sharecropping and about the family's migration north. "In a way, it was also my family that gave me a sense of being connected to the past," he says. "The past wasn't just dates you needed to learn. It became a way to understand who I was."
Sadly, the family has no letters or photo collections in a forgotten attic trunk. It's the same problem that faces historians in documenting the experiences of the past as most people lived it: People who aren't on statues also don't tend to have descendants who carefully preserve their letters and donate them to archives and museums. The nascent museum is, so far, a museum without a collection.
"The challenges are monumental," Bunch says. "I think the good news is there are things in families' homes. We need to create almost a national collecting initiative and really get people to look into their attics, into their collections. I do believe there are things just sitting in trunks."

Another challenge is that "so much of this history is oral history. There has to be a way to figure out how to draw from the best scholarship and use these stories and these histories."
Bunch has never been ruffled by pressure or challenges. Always an independent thinker, he demonstrated an early ability to stand his ground in controversy. As an AU graduate student in the late 1970s, he co-taught a "very controversial" course on African American history with Kraut. "I wanted to do it," Kraut recalls, "but a white professor teaching African American history in that political environment was difficult. We did it together and had a very good time doing it, but I remember at one point some students came to Lonnie and said, 'You're African American, and so are we. We want you to grade our papers.'"
Gently but firmly, Bunch told the students: "That's not how we do it here."
Bunch always approached African American history as part of the complex fabric of the experience of all Americans, and not as a separate or isolated subject. "I think that's what makes Lonnie such a very, very strong person in the world of museums and history," Kraut says. "He sees the African American experience as a very important and central chapter of American history—not separate from it, but part of it. Lonnie does not believe in self-imposed ghettoization. He's very much inclusive."
As for the challenge of building a museum from scratch, this will be the second time for Bunch. He was fresh out of AU in 1983 when he was named founding director of the California African American Museum in Los Angeles, where he learned everything from California history to how to write labels. He then returned to Washington in 1989. That would prove to be his second time at the Smithsonian; as an AU graduate student working at the Air and Space Museum in the 1970s, he not only gained experience but fell in love with an intern, another graduate student who became his wife.
The next time around, as associate director for curatorial affairs, he cemented his reputation as a top-notch manager. "He's a very likable, very fair person," Kraut says. "People who work for Lonnie tend to work very well." So well, in fact, that in 2000 the Smithsonian team he led in producing a permanent exhibit called American Presidency: A Glorious Burden managed to bring the sprawling show from idea to opening in a record eight months.
After four years as director of the Chicago Historical Society (and such accolades as an appointment to the Committee for the Preservation of the White House) he's back at the Smithsonian again. "I'm like a bad penny," he quips. "This is going to be my third time at the Smithsonian." It will be a challenge of historic proportions. Bunch envisions the new museum as a place for all Americans. "It has to be seen by all Americans as a wonderful way to understand who we are and what we've become as a people. It's a story that is ripe with heroes and struggle and tragedy. It appeals to the African American community, but this is also a wonderful lens for all Americans to understand issues of resiliency, optimism, social change—things that mean something to all of us."
Whenever he faces a high moment in his career, the image of his grandfather, reading to him from that book of history, comes back to him. In Japan several years ago as head of the huge Smithsonian's America show in Tokyo, Bunch was in a conference room overlooking a scene of cherry blossoms when it began to snow. A man was speaking in Japanese, and the translator was listening and waiting to tell Bunch what was being said.
"I suddenly found myself thinking of my grandfather, the one who read to me," Bunch says. "I saw him just shaking his head and smiling that his grandson was running a team interpreting American culture for the nation of Japan. I just found that hilarious, and at the same time, so touching."
Now the love of history first nurtured by his grandfather will have an impact on the way America tells its own story. "I've always thought that in a career, if you have one great moment that can nurture your soul, you're lucky," Bunch says. "I've had many. It's really humbling."