Greetings from Chip Griffin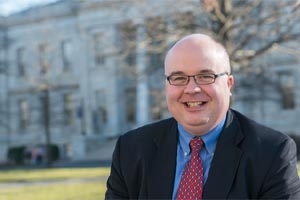 I don't know about you, but I'm pumped that the AU Men's Basketball team made it back to the NCAA tournament this year. Watching them dominate Boston University in the Patriot League Championship game was a real treat. Congratulations to Mike Brennan and his team for a very impressive year.

Speaking of celebrating success, it's that time of year when we begin to think about who to recognize with Alumni Awards at All American Weekend in October. I know, it's hard to think about the fall when many of us aren't very removed from snow season (if at all). But it's easy to think about all of the very accomplished alumni that we have at American University. If you know someone who deserves to be honored, I would encourage you to nominate them using this simple online form -- you won't regret it.

Personally, I have very few regrets about my time at AU, but I do wish I had participated in a study abroad program. That's why I read with interest the story about the 30th anniversary of the Brussels study abroad program. It helps to underscore why AU always ranks near the top of the list of schools for study abroad participation.

I hope you're enjoying some fine spring weather (or fall if you happen to be one of the many AU alumni who live in the Southern Hemisphere!), and I look forward to seeing many of you soon.


- Chip