Internships
Internships Teach More Than Just Skills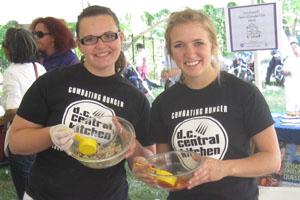 Summer internships provide more than valuable professional experience.
As some College of Arts and Sciences interns discovered, they also provide an opportunity to apply classroom knowledge to the real world.
Take Stephanie Burry '14, who's majoring in health promotion. Working on the front lines of helping the hungry, she interned as a site monitor for DC Central Kitchen, providing meals and snacks to 33 agencies in Washington.
Burry helped with making sure food got delivered when and where it was supposed to in the field, and in the organization's main office she helped supervise the kitchen staff. She also taught more than 700 young people about healthy eating.
But it was her real-world experience that gave her some unexpected insights.
"Although I was able to directly apply my knowledge of health promotion within this internship, I also learned a lot about work ethics, work environments, nonprofit management, and how a conventional kitchen works," Burry said.
"I started the summer a little intimidated but eventually found my place in the kitchen and built relationships with the chefs and other kitchen staff. The experiences I shared with some of these people are impossible to forget. Learning how to deal with a demanding boss . . . and getting to know Robert Egger (DCCK founder and president) completely shaped my experience in more ways than the summer feeding program ever could."
Time Traveling


Summer internships sent two public history master's students back in time.
For Jessica Carlton, who worked as a seasonal park ranger with the Chesapeake & Ohio Canal National Historical Park in Great Falls, Maryland, that meant wearing a period costume from the 1870s as a member of a crew on a mule-drawn canal boat. Her job was to help recreate the experience of what riding on the canal in the nineteenth century must have been like.
"In addition to actually helping run the boat, I researched topics related to the canal and created historical interpretation for programs at the canal," Carlton said. "It was a really unique experience."
For Carlton, a big takeaway from the internship was a chance to learn how a historic site actually works—the behind-the-scenes labor needed to make the public's experience a success.
Her fellow public history graduate student Meghan O'Connor had an equally intriguing job. As an intern at Mount Vernon, she researched George Washington's smokehouse, an important part of life on an eighteenth-century plantation.
Here's how O'Connor described her research in an upcoming association article she wrote for the Mid-West Tool Collectors Association, which sponsored her internship:
"I found that smokehouse furnishings consisted mainly of smoked meat and salting tubs. This space was used to preserve the meat, first by salting it then by hanging it to smoke. Pork was the predominant meat cured in a smokehouse. After the butchering process, slaves and servants would cover the meat in salt and place [it] in tubs. These tubs would have holes drilled in the bottom to allow the water drawn from the meat to empty at the bottom. After the meat is salted for 2-4 weeks, it would be hung to smoke for approximately 1-2 weeks. It would then be left in the smokehouse until ready for use.
"Good bacon was important to the Washingtons. Both George and Martha entreated the farm managers at times to watch over the bacon and make sure it did not spoil. Smokehouses were integral to preserving meat for consumption throughout the year."
Beyond the historical knowledge the experience gave her, O'Connor said the internship helped her understand how a historic museum operates while teaching her "invaluable skills on how to create a compelling exhibit for visitors."
As for her public history classmate, Carlton hopes the internship will help her find a job in her field when she graduates in May. That's something most students can relate to. In fact, at AU 85 percent of undergraduates participate in an internship, making the university the nation's top school in that category.
But as health promotion major Burry emphasizes, internships can offer lots of unexpected benefits.
"I have no doubt that I learned more about myself than I ever bargained for," she said. "I gained confidence through applying knowledge from the classroom to work-related experiences (and from seeing the positive result). I had my first difficult experience with a boss I didn't always agree with and can carry those lessons with me to any job, regardless of what kind of organization I work with."