Alumni
Diary Offers New Insight to Holocaust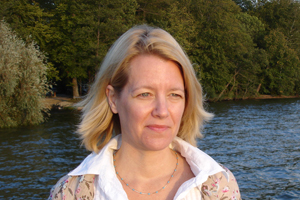 Nearly 70 years after his death, Samuel Golfard has become more than just a statistic of one in six million Jews who perished during the Holocaust. Historian and alumna Wendy Lower will lead a lecture during the annual Holocaust Studies Forum, co-sponsored by the Department of History, Jewish Studies Program, and U.S. Holocaust Memorial Museum, to discuss how the diary of this resilient man fell into her lap.


While earning her master's and doctorate in history from American in the 1990s, Lower established strong relationships with faculty members who guided her in her studies. Professors Pamela Nadell and Richard Breitman stayed in contact with Lower after she graduated, and in 2004, Breitman suggested to Nadell that she reach out to Lower about the Golfard diary.

The diary had survived the war, though Golfard, a talented Polish Jewish writer did not. One day a close friend of Nadell's, Robert Litman explained to Nadell that his father, who was a Holocaust survivor, had this diary in his possession. Litman's father, Jacob experienced the Holocaust alongside Golfard, but he survived. After the war, Jacob Litman, moved to America and translated the diary from Polish into English to honor his lost friend.

However, Jacob Litman passed away before he could fulfill his hopes of one day publishing his friend's words. Robert Litman and his siblings were determined to fulfill their father's wish and contacted Nadell.

After reading a copy of the diary, Lower says she couldn't imagine not publishing it. "As soon as I read it, I thought, this is so valuable," she says. Golfard's diary captures a tale not told by many Holocaust survivors, a history that has not been written. Oftentimes, the focus of the Holocaust is put on camps in Germany and gassing centers like Auschwitz, where millions suffered and died; however, Lower says that 1.5 million Jews were murdered in Ukraine, mostly by bullets, and only 2% of the Jewish population survived the war. Comparatively little is known about these victims and their experiences.

"You have populations such as Berdychiv where there were about 20,000 Jews and only some 15 survivors emerged from the rubble in 1944. Entire communities were completely wiped out," she says. "They literally had no time. They were thrown into extreme life and death circumstances in which they could hardly secure something to write on, let alone fully express and report what was going on, and then ensure that their last words got into the hands of the right person."

Lower explains, the diary is not only an important artifact but a valuable source of a Jewish eyewitness who was a gifted writer. "Samuel wanted to bear witness to the crimes of the Holocaust," she says. "He already looked into the future of a post-Holocaust world. He wrote down dates and names and localities, what had happened—important details that were not put in official German documents. This is really valuable as a historical record of what happened."

In addition to its historical value, Lower says the diary has extraordinary merit as a piece of literature and as a lens into human emotions of fear and grief, and one's confrontation with death and disaster. "It's also an important source for looking at what goes through the minds of individuals in this crisis. How they cope, how they try to adapt—it articulates profound loss," she says.

Golfard lost his entire family in the war and didn't expect to survive. Lower says much of the diary reads like a suicide note, and that through all Golfard's suffering, he still manages to write with elegance and poetic flair. "He'll write at once about his lost family members, then the shroud of sparkling snow that strikes his eyes, or gray pavement stained with blood, or the hush and whisper of spring trees. It's extremely compelling and the imagery stays with you, it is often shocking, but also revealing and very moving," she says.

Lower, Breitman, and Nadell were so impressed with what they read that they all agreed to move forward with publication of the book. Lower and Nadell asked Robert Litman to meet them, and he came prepared with the original diary.

"I was really taken aback when he took it out of his briefcase. It wasn't supposed to be a diary. It looked like an appointment book with a leather cover," she says.

When Lower saw the handwritten words for the first time, she couldn't believe what she saw. "This diary originated in another era of penmanship, when people were trained to write. You opened it up and it was in pristine condition. The blue fountain pen was really bright, flowing across the page, and every inch of the page—including the back—was covered. I thought here's someone who's trying to make use of every millimeter on this page."

While the original diary is only about 80 pages in length, for this published edition Lower has added historical context, expanded it with explanatory footnotes, annotations, maps, photographs and more, including a commentary on how to read and interpret Jewish diaries of the Holocaust. Above all, Lower says she wanted the final product to be accessible to readers, and a useful source for students and scholars.

Lower worked with AltaMira Press and the U.S. Holocaust Memorial Museum to publish the diary this past September and will present her work alongside Breitman and Robert Litman on Monday, October 17 in the Butler Board Room. For more information on the event or Lower's work, please visit the calendar.