Student Group Gets Historical
By Patrick Bradley
April 19, 2012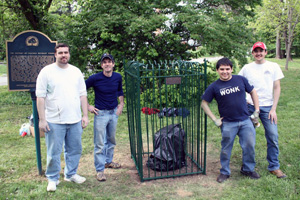 Last fall, Matthew Skic noticed something was missing from the student groups on campus – a little bit of history. So, with the help of fellow sophomore history major Alex Parody, the two started the Student Historical Society of American University.

"The History Department really didn't have an organization that could bring all the history majors together, be a social club for all the history majors to get to know each other, and then volunteer and advocate for historic preservation," Skic explains. "We hope to sponsor speakers in the future, do volunteer activities, and do fun activities."

Under Skic's leadership as president, the group has already accomplished a number of events and trips, ranging from an on-campus workshop with AU archivist Susan McElrath to a visit to the historic Larz Anderson House at Dupont Circle and even promoting history at an afterschool program in Columbia Heights to celebrate Black History Month.

While the group strives to volunteer and promote historic preservation, Skic also hopes the organization can help introduce students to careers in history outside the classroom. His current volunteer position at the National Archives has shed light on a tremendous age gap in history-related jobs.

"I noticed that all the [other] volunteers were older people, but I want to get the young blood in there," Skic says. "So, starting a volunteer organization with students, we've only gotten praise from the National Archives. We went on a tour last semester down there, and everyone was happy to see that college-age students were interested in history."

Most recently, the Student Historical Society took on a true history project. Working with members of the American Society of Civil Engineers, the group restored one of Washington DC's forty aging boundary markers. Placed in the early 1790s to mark the District lines, these small, sandstone obelisks often go unnoticed on roadsides, in wooded areas, and even on private property.

"Currently thirty-six of the original forty stones survive," Skic says, explaining what drew his group to refurbish marker NW # 6, the stone closest to AU. "A lot of them are in bad shape because people basically forgot about them. Over two-hundred years they've deteriorated and haven't gotten too much care. Today, people don't even know what they are."

The AU group has joined a new movement of taking care of these DC landmarks, as students from Howard University have also been working to restore several of the markers – all of which are made from the same stone used for the U.S. Capitol Building.

Looking at future plans, Skic says the group may research and promote a location in Washington DC that has an incredibly rich but little-known history – American University.

"In the future we'd like to work on some projects just to get people aware of the cool things that went on here," he says. "A lot of it is really interesting stuff that most people don't know about. You're playing Frisbee on the quad, and you don't realize that World War I training happened right there. Kennedy made one of his most famous speeches on the soccer field."

Working on or off campus, Skic and the rest of his organization credit their location for so much of the group's success thus far. Being in the nation's capital has allowed them great opportunities, and it's also offered an opportunity to fulfill an element of AU's strategic plan – engaging and serving the people of the District of Columbia.

"DC has so many cultural opportunities. There's everything you could want. If you want to study history, you can study it at museums, old houses, or the National Trust for Historic Preservation," Skic says. "One of the goals of the Student Historical Society is to connect with the DC community."

Through its dedicated service, advocacy, and historical excursions, the Student Historical Society of American University already seems like a valuable addition to AU's long history of educating passionate, purposeful, and involved students.



If you're interested in attending or competing in the Student Historical Society's Trivia Night this Saturday, April 21st, from 6:30 to 9:00pm in the Butler Board Room, click here.

To "Like" the Student Historical Society on Facebook, click here.

For information from the group's AU webpage, click here.