Liberal Arts
Fat Cats, Bodybuilders, and Corsets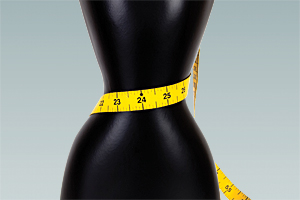 Before Men's Health and Glamour tempted readers with punchy offerings of "Russian Fat Loss Secrets" or "101 Ways to Look Hotter Now," stoutness was manly and real women had curves — whether those curves were nature- or corset-made.
Dieting — that willful and dreaded process of reshaping the body through self-denial — had an early history in America. In a recent paper published in the Journal of Social History, Katharina Vester, professor and director of American studies in the College of Arts and Sciences, uncovered inch-pinching and miracle diets in early nineteenth-century America; trends predating the previously accepted timeline of dieting in the United States.

It's a Man's World
Dieting is conventionally understood as a female fixation. Third-wave feminist Naomi Wolf is more than tepid on the issue, calling dieting "the most potent political sedative in women's history" and "something seriously being done to us to safeguard political power." The impression is that dieting was introduced to keep the gals busy counting calories and comparing measurements, so there would be no time left for civil participation or disobedience.
With evidence in hand from early men's periodicals, though, Vester offers a counterpoint. Dieting was first a masculine activity.
When dieting was popularized in eighteenth-century England, fat-trimming measures promised men "that their influence, political power, and social privileges would grow as their waistlines slimmed."
Prior to that time, stoutness had been viewed as a sign of masculine success. But in the early 1700s in Great Britain, medical concerns about obesity accompanied cultural charges that "excessive fatness" equaled conspicuous consumption and a moral debate about self-indulgence.
It took nearly a century for concerns about obesity to cross the Atlantic, but in the 1830s articles began to appear in medical journals, prescribing dieting as a cure for congestion, indigestion, and other common ailments.
By 1842, British dieting articles reprinted in American magazines showed that the fad had struck a chord with readers on both continents. American Turf Register and Sporting Magazine reprinted an article that poked fun at English gentlemen, increasingly vain about their weight. It is filled with jokes about men who managed their weight down to the pound, and casts a wary eye toward men who opt for "short allowances" at supper or "take sweats" to shed water weight.

Spirit of the Times, though, found that nobler classes, reared on rich diets and a daily schedule of polo and cricket, were better built for excess without the threat of obesity. The nouveau riche, on the other hand, whose wealth was often a product of the industrial revolution, didn't have the breeding to know how to be rich.
As class lines blurred, the self-made man had something to prove. The newest member of the wealthy class, Vester notes, "was thought to be striving, ambitious, but insecure about his social standing, and needed to demonstrate self-control."

Muscles Make the Man
When mid-Victorian culture began to model the male ideal on ancient, muscular, Greek perfection, men's fitness became an obsession. Fears abounded that due to men's increasingly sedentary professions the male body had become too round, too soft, too feminine. Not coincidentally, this was the time when middle-class women began demanding education and political participation. Vester explains, "the need for more gender-specific embodiments emerged."
In his 1863 publication, A Letter on Corpulence, British undertaker William Banting wrote about his "miraculous" recovery from obesity through an early Atkins-like diet: low-carbohydrate, high-protein, with meat four times a day and plenty of liquor. It was a men's-only diet. 

In his Letter (which before Vester's research was held to be the first real popularly adopted weight-loss diet), Banting detailed the ridicule he suffered, as industrialization led to more standardized furniture, uniform seat sizes on public transportation, and ready-to-wear clothing. Nothing fit. Banting and other corpulent men were pushed into the world's new mold. There was a new normal.
By the close of the nineteenth century, the lines were set, and men, mostly, attempted to trim their bodies to fit between those lines. A new word, "slob," slipped into the American language, used to denigrate overweight men. Around the turn of the century, the model for male perfection shifted again, from Greek artifacts to the hulking frame of early bodybuilders like Bernarr Macfadden, who quite literally co-opted the statues by placing himself on a pedestal.
A sculpted specimen of broad-shouldered proportions, Macfadden fasted to trim fat and layered on muscle through training programs he endorsed in his body-building magazine. Throughout the twentieth century, the male ideal fluctuated little from Macfadden's broad-chested and muscular ideal, though it was punctuated by the emergence of a new it bodybuilder every few decades.
The image of the ideal female form, however, would be hotly debated.

Good Girls Don't Diet
While men experimented with fad diets and push-ups and weight-trained their way to fitness, nineteenth-century popular culture urged women to be plump to be healthy and beautiful. Women were meant to be soft, passive, their bodies full of round, maternal lines, most often cinched at the waist by corsets. As Vester explains, corsets softly rounded the lower belly and were "used to show fertility, for the hour-glass figure," not thinness.
Medical experts commonly stated that plumpness was necessary for healthy pregnancy and childbirth. According to Vester, trim women were attacked in newspapers and magazines as bad mothers, a danger to their unborn children, irresponsible, and unpatriotic.
Nevertheless, women's magazines were beset by readers with a steadily increasing interest in dieting. Editors responded with scolding. The 1878 diet advice and beauty guide, How to be Plump, taught women how to pack on the pounds, while their husbands, fathers, and sons struggled to do the opposite. In the 1880s, Scientific American explained "body fat is feminine" and Harper's Weekly counseled "leanness in the fairer sex is a dreadful evil." While male bodybuilders bared pecs and biceps for students of physical culture, sex goddess Lillian Russell topped 200 pounds at the height of her career. Big was beautiful.
But heftiness didn't exhibit power the way that dieting did for men. Vester gives a nod to why women diet today, "Women diet because they gain something by doing so."

Suffragettes, Bloomers, and Diets
In the late nineteenth century, while popular culture endorsed female body fat, feminists took up the mantle of diet. Elizabeth Cady Stanton endorsed uncorsetted women who trained with early women's physical trainer Diocletian Lewis. Stanton herself famously went on a diet in the 1880s. Many middle-class women took up dress reform as a fashionable cause, rejecting the corset and depending on exercise to shape their bodies.
By 1886, the Boston Daily Globe reported dieting had become THE craze among women. In 1891, Harper's Bazaar panned the efforts of women to emancipate themselves through slenderness. Yet The Well Dressed Woman, in 1892, offered a fashion profile, endorsing a woman's shape sans corset. Trimness began to be idealized.
Women's universities, which decades-earlier had adopted physical activity to counteract the damage of "brain-work" by women, were in the 1890s offering physical education for general health. Finally, the Ladies' Home Journal, which fought the turn toward dieting for decades, relented, writing in 1897 "a woman can be as stout or as slender as she desires."
At the same time that suffragettes were gaining political momentum, Charles Dana Gibson's Gibson Girl came to embody iconic American beauty. Throughout the 1890s and decades into the new century, the tall, slender, broad-shouldered Gibson Girl was often depicted taking part in a fashionable athletic activity, like golf, tennis, or boating. By 1900, real-life women suffragettes donned bloomers that made bicycling and other activities far more manageable. Corsets were replaced by girdles — the predecessor of today's Spanx.
Underneath the form-smoothing (rather than shape-forming) garment, women aimed for trim waists. With ready-made clothes increasingly available, standard sizing made it clear when women deviated from average dimensions that were ever shrinking.
Dorothy Cocks, beauty editor at the Ladies' Home Journal in 1927 wrote that the slender female body signified a position of power—real resistance to Victorian beauty ideals that had turned women, according to Cocks, into "idiots." She asserted that the modern, slender woman could "win championships, follow careers, run industries."
As women's dieting went increasingly mainstream, female slenderness was also allied to conservative messages. Good wives stayed thin by homemaking, and in boorish disjunctive reasoning, being overweight meant a woman was lazy and a "bad" homemaker. The Fun of Getting Thin, an early diet advice book, concluded, "A fat man is a joke; and a fat woman is two jokes — one on herself and the other on her husband."
This disturbing rationale did not replace suffragettes' messages of empowerment through dieting, just complicated the goal. A thin woman should bring home the bacon, fry it up in a pan, and burn a few calories while doing so.

Diets Not Stays
Trends in bust, waist, and hip size fluctuated over subsequent decades, reflecting women's perceived roles in society. For instance, when the nuclear family of the 1950s was the norm, and women were pushed to be mothers, Marilyn Monroe had the figure to emulate. Through the sixties, with rising feminism and the sexual revolution, there was Twiggy and Jane Fonda, Weight Watchers, and Diet Pepsi.
Yet the impulse to diet and model one's body after cover girls — from Gibson Girls to Gisele — wasn't strategically foisted upon women to consume their energy and diminish their power as many modern feminists assert.
"Its liberating potential," writes Vester, "was limited by the familiar process in which cultural revolts become co-opted."
Dieting, once a revolutionary act, became just one more way for women to model trends. And, as Vester concludes, "The disciplinary regimen of social control from without — through fashion, restricted mobility, and corsets — morphed into a dietary regimen of self-control from within." In dieting, women internalized the corset and took hold of the strings. Culture simply sold them on the proper measurements.