First Person
Nuclear Studies Institute, a Life-Changing Experience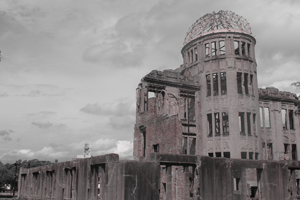 Throughout my academic career, the topic of nuclear proliferation has always held some degree of interest. As someone who aspired to attain public office, I always knew I would need to understand the topic in some form or another. Naturally, when I stumbled upon the Nuclear Studies Institute at American University, I pounced on the opportunity.  Little did I know the trip would enlighten me to such a degree that my outlook and perception of the world would forever be changed. 
As a member of the Institute, we traveled to Japan and visited Hiroshima, Nagasaki, and Kyoto, some of the most famous destinations in Japan. As part of its core mission, the Institute explains the history of the nuclear arms race, from the dropping of the nuclear bombs on Hiroshima and Nagasaki, to current efforts to curb the spread of nuclear weapons. From the start of the trip, I was a bit skeptical of the mission the Institute sought to accomplish, which was first and foremost, to rid the world of nuclear weapons.  As someone who participates in Army ROTC at Georgetown, and who also aspires to be a military officer, I had grown to see nuclear weapons as a symbol of American power. A weapon that helps keep the world in line. Boy, was I in for a surprise.
The Institute's trip coincided with an anniversary of when the weapons were used in Hiroshima and Nagasaki. We were able to attend multiple national ceremonies which included monumental figures such as the Japanese Prime Minister Naoto Kan and Secretary General of the United Nations Ban Ki Moon. History professor and Institute director Peter Kuznick gave a heavily attended public lecture in Nagasaki about the atomic bomb decision. Being in the cities where hundred of thousands of people were killed from two bombs had a profound affect on me. Listening to the testimony of Hibakushas, survivors of the bombings whose name in Japanese literally translates to "explosion-affected people," was an eye-opening experience. I never thought I would hear a person say they "held there dying mother and watched her crumble to dust." 
Japan has countless museums that offer you a glimpse into the past, helping you to realize the full effects of nuclear war. One of my favorite things about the country is how many peace museums they have. I have never in my entire life seen a peace museum in the United States. I was also surprised by the fact that all the Japanese people I came into contact with have no ill feelings toward the US; they simply wished to work with America to achieve a nuclear free world.  I always thought they would harbor at least some degree of animosity, but it almost seems as if they blamed themselves for starting the conflict that would unleash hell on their country.
The Institute provided a wonderful opportunity to get to know students from different countries and backgrounds. The AU students traveled and studied with an equally large group of students and professors from Japan's Ritsumeikan and Asia Pacific Universities. Our combined group included, in addition to the Americans and Japanese, six Chinese and one Korean, one Vietnamese, and one Brazilian. Among the Japanese were two medical students from Fukushima. The AU contingent included two naval officers, one of whom works on nuclear subs and the other who is a helicopter pilot who participated in the Fukushima rescue, an evangelical Baptist minister, two history professors from other universities, a large number of history graduate students, and several undergraduates from varied disciplines. One of the Hibakusha, Koko Tanimoto Kondo, who actually graduated from AU in 1969, travels with the group each year the entire time the AU students are in Japan.
As the trip came to a close, I found myself wishing more and more to help take part in achieving this nuclear free world, yet I have always seen myself as a realist and know that this will be much harder then it seems. The alternative option is to accept a world where millions of people can be wiped out with a single bomb, where the environment can be ruined for decades if not centuries from a small argument. The task winds down to those involved with the international community to find some way to make this idealist dream a reality. With countries such as Iran or North Korea coming closer to acquiring the very thing this Institute has shown me is wrong, and with no way of holding them accountable, this movement holds little hope. With the largest International Studies School in the nation, I think American University owes it to the world to at least help formulate discussion, and as a student of this wonderful university, I will do my best to help bring about this change.   

Twelve days ago nuclear weapons were the farthest thing in my mind, but today it seems to be the only thing I can focus on. I sincerely urge students to take part in this trip.  I personally assure you, you will thank yourself. The friends I made over this trip, and the unforgettable memories I have formed on this trip will follow me forever, and in hindsight I can imagine no better way to spend the last weeks of my summer.