Liberal Arts
Savvy City Girl Blogger Teaching Social Media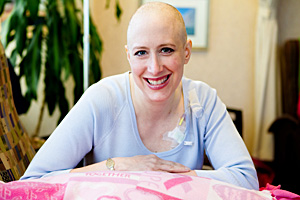 Stef Woods has been called D.C.'s Carrie Bradshaw. In many ways, she could be likened to the whole cast of Sex in the City.

Woods, WCL '99, details the juicy ups and downs of love and sex in Washington, using code names for the men in her life (Mr. Big meet Buckeyes Boy). She was once a hard-nosed redheaded lawyer, á la Miranda. She possesses Charlotte's optimism, without the hapless romantic overtones. Like Samantha, she's blunt about her sexuality, and that comfort in her own skin allowed her to face breast cancer with radical honesty and a tone of empowerment.

Under the moniker City Girl, Woods invited the city out on dates and into her bedroom. When she launched her blog in December 2008, the then immigration lawyer kept her posts anonymous. She was making a name for herself in policy circles by day. By night, she was City Girl, a cartoon of a leggy redhead, the only clue to her true identity.

As the site launched, Woods remembers being excited by reaching 100 hits per day. She rehashed old stories of dating mishaps. There was the blind date who met her for coffee, expected her to pay and had her drive him to the bank and run a few other errands. There was the hopeful suitor found on Match.com who asked to have their first date at the New York Port Authority (what Woods calls a building "just one notch above a sewage treatment plant"). She tried to leave a few months lag time between real life and her posts, to give more promising relationships time to evolve before they became blog fodder.

Then she met "Buckeyes Boy." The whirlwind romance began, aptly, at a tweetup. The two moved in together after a week. He was a "very charming freeloader" who broke up with her by blocking her on Twitter. Woods calls it the "social media version of the Post-it note breakup" (another Sex in the City reference that you either get, or don't).

All was not lost. "He gave me blog gold."

She had a story arc, the unraveling of lies. Her blog jumped from 3,000 hits a month to 30,000. This was around the time that Woods decided to take a year off from practicing law.

She joined the American Association of Sexuality Educators, Counselors, and Therapists as a supporting member. "That's the three-degree woman in me," says Woods, who in addition to her law degree, also holds an MALS from Georgetown. "I wouldn't feel comfortable giving advice without any foundation in what's safe."

Blogger turned health advocate

In June 2010, when Woods was speaking at workshops, freelance writing, and managing a thriving blog, she found a lump in her breast. She was 37.

"I was getting my long, long beautiful red locks done — getting a blow out at a salon — and I received a call that it was breast cancer."

Woods' red hair had been lush, striking. "My hair was my thing." She lost it during chemo.

Woods, who was 24 when her mother died of cancer, knew what she had to do. Within three days of her diagnosis, she began sharing her latest story with her readers.

"I knew if I could help one woman, I should do it."

Woods' cancer story was told only as City Girl could. There was a night out on the day of her diagnosis with Mr. Exec, during which the scoundrel hit on another woman. The night ended with him crying in her apartment.

In October, Woods faced hair loss. She writes as though looking at herself from some distance: "Her hair is gone now.  In only four days, she has lost half of her long, thick red mane.  She donates the rest to Locks of Love and shaves her head.  She thinks that losing her hair will make her incomprehensibly sad, and yet, it doesn't.  She finds a way to rock the G.I. Jane cut and realizes that she doesn't need her hair to be sexy."

As she fought cancer, Woods fund raised for a dozen charities and even allowed cameras to follow her into chemotherapy for a photo shoot (see photo).
"I used what good hours I had to be out there, and try to put a face to it. That didn't mean it was easy or fun." But Woods showed that a woman's romantic impulses don't shut down with cancer. "I could show you can date while you have cancer."
"The days you're not sick, it's fun. The days you are, it's horrible. And in those in between days, it was worth it for me to go out for an hour, put on a dress, and try to have some sense of normalcy. That doesn't mean it felt normal, but I think sometimes you deserve the effort."
Woods endured six rounds of chemotherapy. Her body responded horribly as preexisting conditions complicated treatment. Over a four-month period, she spent an extra 20 days on IVs to combat the side effects.

She got her teaching job with a tweet
In April 2011, Woods came to AU as a panelist for the Social Learning Summit. Her blood counts were at their lowest, the result of cumulative effects from chemo and radiation. Days later she was back on campus, guest lecturing in Yvonne Fulbright's Gender in Transnational Perspectives class. Crossing through Woods Gate, the lawyer and WCL grad turned blogger was struck by a thought. She tweeted "Being at AU two times in 10 days has me wanting to teach a class on sexuality and social media."
"I didn't even @AmericanU," Woods remembers.
After her lecture, her Twitter stream was full. A couple of weeks later, social media student Megan Ackerman, SOC '11, connected Woods with Katharina Vester, director of the American Studies Program. Within a month, Activism and Social Media was on the books for the fall, Sex and Social Media for the spring.
Woods has blended professorial life into her existing matrix of online activism and writing. She stopped blogging about her own dating life at the end of November. "I don't want to know what my students did last night any more than I want them to know what I did last night."
She doesn't think her readers will mind the change. Her own dating life is no longer cause for rubbernecking. "I think they're tired of reading about it since I make healthier choices now. I have enough drama from cancer."
Today, Woods sports a short crop of red hair. "I'd rather be bald," she rolls her eyes. "I spend more and take more time to have a constant bad hair day. The fact that someone turns to me and says that it's cute, that it's sassy — this wasn't a choice. This wasn't a cut . . . This is a constant reminder of what cancer has taken from me."
This past October, Woods posted video taken in the parking lot of Sibley Cancer Center. It's an up-close shot. Her eyes are dark but clear as she shares the news: her breast surgeon suggested mastectomy and reconstruction. For her left breast (where before she'd had no cancer), she was told that a preventative mastectomy could reduce her chance of recurrence to five percent; the risk of recurrence on the right would drop to 10-15 percent. Otherwise she has a 30 percent recurrence risk in the next five years.
"It's not something I'm taking lightly. It's not something I'm excited about." Woods laughs morosely, then turns serious. "I don't want to turn back a year from now and regret not doing it. If cancer is to return, I don't want to question whether I could have done something else."
In the meantime, Woods will continue writing and teaching — talking about the subjects people usually don't talk about. If not an open book, Woods is the modern day equivalent — an activist blogger. She'll continue sharing her story (if not the details of who shares her domestic abode).
"Activism and social media, it's not just a subject I teach," says Woods. "It's who I am. It's my life. My entire cancer experience is online in hopes of educating others. In doing that, I became an advocate."