Contact:
Correnti, Sarah E
Senior Administrative Assistant
History
4400 Massachusetts Avenue NW
Washington
,
DC
20016-8038
United States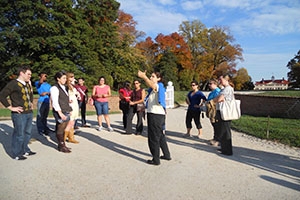 At American University, students study the best practices of public history both inside and outside the classroom. As part of the MA in Public History or as an outside field for the PhD, students learn to work collaboratively as they pursue meaningful historical research and projects alongside our faculty & partners. Read below about what makes American's program unique.
Work Experience
American University's public history concentration is designed to give students vital hands-on experience in the field. Through internships and classroom-based practicum projects, students learn to collaborate with local communities, public institutions, and each other. Learning through practice, students develop versatile skill sets and outstanding resumes. Take a look at a few of the projects completed by our public history students.
Distinguished Partners
AU's program affords students opportunities to work alongside professionals at the nation's premier federal and non-profit institutions, from the National Park Service to the Smithsonian Institution. Students not only forge lasting bonds between each other and faculty, but also develop professional relationships that extend beyond the mere application of public history coursework and theory. See a full list of our many partners here.

Faculty Support
The Department of History at American University has a deep commitment to public service and to mentoring its graduate students. Students learn from experienced scholars whose work blurs the lines between the academy and the public. With the close support and guidance of faculty, students acquire the tools necessary to succeed in a dynamic field. Meet our faculty here.

Intuitive Curriculum
AU's public history program encourages students to follow their passions. Students have the freedom to develop their own unique set of skills and expertise, pursuing internships and classwork in the fields of their choice. Meet some of the program's alums and learn about their experiences at AU. (See American Historical Association's proposal for history graduate programs.)
Historical Rigor
In addition to understanding the best practices in public history, students cultivate a deep knowledge of their chosen historical field, learning how professional historians conduct scholarly analysis. Students complete AU's program with a record of original research and command of historiographical literature.

Community
The public history program at AU seeks to foster a sense of community and collegiality among its graduate students. Both inside and outside the classroom students develop friendships that provide support and a lasting professional network. In recent years, students have arranged trips to historic sites in Philadelphia and Virginia, planned weekly happy hours, and driven cross-country to conferences. Browse through some of our student photos and recollections and connect with the community on Facebook, Twitter, and Instagram.
Consortium

American University's consortium system gives students the opportunity to pursue coursework at a number of other universities in the Washington, DC area. Along with their required courses here at AU, students are also able to take elective courses or courses that count towards other requirements. Learn about the consortium system and its requirements.