Student Historical Society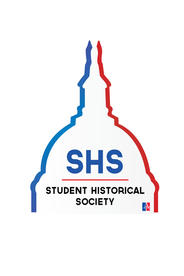 The Student Historical Society of AU (SHS) is an officially recognized student organization dedicated to promoting the study of history. We are devoted to education and advocacy, particularly in regards to student involvement with historic preservation and public history. Founded in Fall 2011, SHS has close to a hundred members from every school and major.
Eligibility
All students of American University, undergraduate, graduate, full or part-time, are eligible to become members of the SHS. You do not have to be a history major to join. All you need is an interest in history.
Major Activities

The SHS has many functions. For example, we serve as a volunteer group for DC area historic sites and organizations such as the White House Historical Association. The SHS also holds discussion sessions and workshops, sponsors speakers on campus, organizes trips to historic sites, and advocates for historic preservation. In addition, the SHS sponsors social activities at AU, such as movie nights and historic trivia contests. Some past events include collaborations with the American Society of Civil Engineers-National Capital Section and the National Archives and Records Administration.
How to Join

To join, attend a general meeting of the SHS, typically held at 8:00 PM on Tuesdays in the Battelle Atrium, or one of our many events during the Fall and Spring semesters. Membership is free. To find out more, see our contact information below.

Questions
For more information about the Student Historical Society of American University, send an email to studenthistoricalsociety@gmail.com or check us out on Facebook. Don't forget to follow us on Twitter for updates on events, trivia, and other SHS information @SHS_AU!
Past Events
DC Scavenger Hunt - Teams led by SHS officers were each given a list of historic sites and scenes around the National Mall. Team members had to take pictures in front of each site, and whichever team took the most pictures of the sites listed won the scavenger hunt.
NEH Celebration of the Emancipation Proclamation - SHS was invited to attend the NEH's celebration of the Emancipation Proclamation at the National Museum of American History on Constitution Day. The nationally-streamed event proved to be packed with great insight from the five historians who discussed the effects of the document. A few SHS members got to meet notable Civil War historians Eric Foner and Edward Ayers.
History Trivia Night - Over 50 contestants on 10 teams competed for prizes and bragging rights.