Undergraduate Internships in History
Undergraduate students wishing to do an internship for credit in the Department of History must pursue work that has a strong historical component.
We recommend that students wait until their junior or senior year to do an internship for credit. Internships are designated HIST 491, which indicates a senior-level course.
Students will do substantial reading and writing along with work on-site. To take full advantage of this opportunity and to meet the needs of the organizations who agree to host our interns, students need significant experience studying history on the college level. To that end, 15 credits of history taken in residence at AU are required (please note that courses taken as part of AU Abroad count as "in residence"). It is recommended — but not required — that students take HIST 399: Conversations in History before applying to do an internship for credit. 
A strong internship will include the following:
Intern will research, document, and/or interpret the past using primary documents and secondary literature.
Intern will have a clearly defined project that applies classroom knowledge to a professional setting.
Intern will work with someone trained in history or a related field, such as archival management, collections management, historic preservation, museum studies, or media development.
Intern will gain a better sense of career choices and how to tailor his/her education to achieve career goals.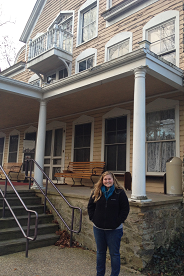 Spotlight:
Sam Hunter
"I spent the fall 2013 semester interning at the Clara Barton National Historic Site in Glen Echo, Maryland. The site is the actual house that Clara Barton, Civil War nurse and founder of the American Red Cross, lived in from 1897-1912. As an intern, I conducted an oral history project with a park ranger that worked at the Clara Barton National Historic Site when it first came under the jurisdiction of the National Park Service. I also gave tours of the house and had the opportunity to interpret history with an interested and engaging audience. It was a great experience!"
Getting Started
Students interested in an internship for credit in History must consult with the Internship Coordinator in the Department of History, history@american.edu, the semester before they wish to undertake the internship. All students must turn in a written proposal and a job description form before the internship can be approved. The proposal must be submitted 4-6 weeks before the semester of the internship begins so that the Internship Coordinator has time to recommend changes and to approve the internship before the beginning of the semester.
It is also highly advisable to meet with your CAS advisor before your internship semester to develop a plan of study that permits you to devote adequate time to both your classes and to your internship. Time management and having reasonable expectations of what you can accomplish during a semester are key to balancing your commitments well.
Credit Hours
3 credit hours/15-20 hours a week for 14 weeks during the fall and spring semesters and 15-40 hours a week during summer semester. Undergraduates may only count one 3 credit internship toward the History Major.
Requirements
Internships should not have more than 15% of the interns' time devoted to clerical work.
Internships at law firms and media companies that are not directly related to producing historical content, and internships that are in the marketing or development departments of museums, will not count for the history major.
Prior to Internship
Meet with the Internship Coordinator to discuss your internship search. Remember many internships have application deadlines months in advance of the start date. So start early!
Once approved, you must register for the internship. Fill out the Registration and Consent and Release Form.
During Internship
Meet with the Internship Coordinator in the first week of classes or at the beginning of the summer to get a copy of the HIST 491 syllabus and set up a meeting schedule.
Keep a work journal reflecting on experience (prompts will be provided by the Internship Coordinator).
Write final reflection critically evaluating internship experience.
The AU Career Center will send an evaluation form directly to your internship supervisor. Remind your supervisor that the evaluation form must be returned to the Career Center in order for you to receive a final grade. Evaluations will be confidential unless your supervisor requests that it be shared with you. The evaluation is a large and important part of each intern's final grade.
Suggested Internship Sites
House Museums and Historic Sites: including Mount Vernon, President Lincoln's Cottage, Dumbarton House, The Frederick Douglass House, Tudor Place, Mary Mcleod Bethune House, Clara Barton House, Masonic Temple (16th Street), Sewell-Belmont House.
Historical Societies: including the Historical Society of Washington, the Maryland Historical Society, the Virginia Historical Society, the Jewish Historical Society of Washington, the White House Historical Association, and the Society of the Cincinnati.
Historic Preservation Offices and Non-Profits: including The National Trust for Historic Preservation, the DC Historic Preservation Office, the Maryland Historic Preservation Office, National Landmarks Program (NPS), and the Historic American Buildings Record and Historic American Engineering Record (HABS-HEAR run by the NPS and the Library of Congress.)
Libraries and Archives: including the American University Archive, the National Archives and Records Administration, the Library of Congress, and the Smithsonian Institution Archives.
History Museums: including many of the Smithsonian museums, the National Building Museum, United States Holocaust Memorial Museum, Museum of Law Enforcement, Newseum. (Be careful; not all history museums do history in a rigorous and thoughtful way!)
Heritage Tourism Groups: including DC Cultural Tourism.
Media Companies: including C-Span American History TV and National Geographic.