International
Fall 2016 Focus on Israel-Europe Connection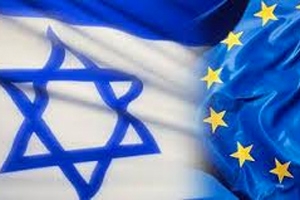 This September, the Center for Israel Studies will pivot its attention to the relationship between Israel and Europe. Michael Brenner, Seymour and Lillian Abensohn Chair in Israel Studies, will teach a new course on "Europe and Israel." The class starts with the European roots of Zionism and covers the Holocaust as one of the factors leading to the establishment of Israel. It leads up to present-day relations between Israel and the European Union, and the Global Embassy visits will be part of the curriculum.  
The Center's popular "Global Israel Series" will also explore facets of Israel's diplomatic, economic and cultural relations with countries in Europe. During visits to various European embassies in Washington, students will have the opportunity to pose questions to diplomats from Europe and Israel and enjoy receptions featuring cultural foods from each nation.
The Global Israel series kicked off in September 2015 at the Embassy of Uruguay. His Excellency Carlos Gianelli Derois, Uruguayan Ambassador to the United States hosted His Excellency Nestor Alejandro Rosa Navarro, Uruguay's Ambassador to Israel, Reuven Azar, Deputy Chief of Mission of the Israeli Embassy, Professor Michael Brenner and Center for Israel Studies (CIS) Scholar-in-Residence Dan Arbell, a former Israeli diplomat, in a lively conversation about Israel's relations with Latin America. Students were able to chat with the diplomats over a supper of Uruguayan empanadas.
The next event at the Embassy of Ethiopia drew over 200 students and featured not only the rich trade relationship between the countries but a discussion of the Beta Israel, the large Ethiopian diaspora living in Israel who were brought to Israel in several waves beginning in the late 1970's, Operation Moses and Operation Solomon.
Later in the Fall Semester, the Series moved to the German Embassy to celebrate 50 years of diplomatic relations between the two states. Representatives of the German and Israeli embassies to the United States and Michael Brenner discussed the history of Israel's special relationship with Germany throughout the past half century and into the future.
His Excellency Arun K. Singh, Indian Ambassador to the United States hosted the final 2015-16 standing room only embassy event at the Indian embassy. A discussion on the growing relationship between India and Israel featured Ambassador Singh, His Excellency Ron Dermer, Israeli Ambassador to the US, Professor Maina Chawla Singh, and Abensohn Chair in Israel Studies at American University, Michael Brenner. The discussion was followed by an Indian dinner hosted by the Embassy.
The Global Israel Series is supported by Barbara Ann Bender in memory of her parents, Howard Bender and Sondra D. Bender, a long-time trustee of American University. Free transportation for AU students to the embassies is provided.