Technology
Green Technology in Israel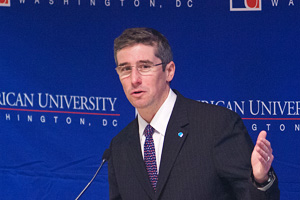 The future of the automobile may well be speeding down a road in Israel.
Speaking February 7 at a packed AU symposium — Greener, Cleaner, Better: Israeli Innovation in Greentech — Michael Granoff of the innovative technology company Better Place explained how his firm is overcoming historical objections to all-electric vehicles, such as their limited range and relatively high cost.
In Israel, which along with Denmark and Australia has Better Place operations, the security benefits of breaking the dependence on oil and the environmental value of drastically reducing auto emissions are huge selling points for the privately held California-based business.
If all goes as planned, half the cars sold annually in Israel could soon be part of Better Place's electric car infrastructure, which uses company-pioneered technology that allows vehicles' batteries to be switched, said Granoff.
"Our business model is about selling miles," said Granoff, who has headed the company's oil independence policies since Better Place's founding in 2007. "The more miles we sell, the more money we make. And by the way, the more miles we sell, the more oil gets offset."
All-electric cars built by Renault with easily switchable batteries are now being driven by company employees and will be broadly available this spring when Better Place's network of battery switching stations will be complete.

How Better Place Works
Much of the expense of an electric car is its battery. Better Place eliminates that up-front expense for consumers. The company owns the rechargeable batteries, which are switched by robots about every 100 miles at a network of stations. That switch takes about the same time required to fill a tank with gasoline. The batteries, which are recyclable, are then recharged for future use by another customer. Recharging takes about an hour.
The cost for the service in Israel, where gas is considerably more expensive than in the United States, for a driver who travels about 12,000 miles per year, is about $300 a month, a 20 percent discount on current gas prices.
Consumers know if they sign a four-year contract now, the cost to power their car will be the same in 2016, a certainty impossible with gas prices.
"It makes the car affordable to the general consumer and accessible to everybody," Granoff said.
An integrated car computer tells when the driver needs to switch batteries during a trip and gives several station options. Software coordinates with Israel's electric grid as well, avoiding overtaxing the system.

Future Projections
About 60 percent of cars sold in Israel go to fleets, mainly to business fleets that provide vehicles to employees. In the past three years, Granoff said, the company has signed up more than 400 fleets, representing 80,000 cars that will change to all-electric cars made by Renault. Another 20,000 sales to individuals are also possible.
U.S. politicians are well aware of the company, which has raised $750 million in private equity. Eleven governors, among them former Massachusetts governor Mitt Romney, and 100 members of Congress, have been to the company's visitor center in Israel.
"By sometime next year, we will become the best-selling car in Israel, which will make a lot of people scratch their heads at the same moment that in the United States we've concluded electric cars don't work," Granoff said.
Denmark will be close behind Israel in introducing a network for all-electric cars, and the company plans to deploy a network in densely populated parts of Australia.
Granoff's keynote speech in the School of International Service's Founders Room was part a daylong symposium on Israel's green technology. Other panels covered case studies of green technology innovation, the policies and politics of Israel's green economy, and ideal and real-world perspectives.
The schedule included an array of distinguished speakers, among them Eli Groner, Israel's minister for Economic Affairs to the United States; Jack Gilron, a senior scientist at the Zuckerberg Institute for Water Research at Ben-Gurion University of the Negev; and Andrea Yonah, a representative of the U.S.-Israel Binational Industrial Research and Development Foundation, which offers up to $1 million to U.S. and Israeli companies that jointly develop and commercialize innovative technologies.

The symposium, which was scheduled to coincide with the Jewish holiday of Tu B'shevat (the New Year for Trees, Israel's Earth Day), had several sponsors. At AU, they were the College of Arts and Sciences' Center for Israel Studies and the Environmental Science Program, the Kogod School of Business and its MS in Sustainability Management Program, the School of International Service's Global Environmental Politics Program, the School of Public Affairs' Center for Environmental Policy, and the AU Office of Sustainability.
The event was also sponsored by Ben-Gurion University of the Negev and the Embassy of Israel, as well as Nixon Peabody LLP and Honest Tea.