Internships
Studying the Past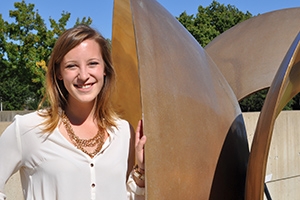 Summer vacation: a time for lazing on sandy beaches, lounging poolside, and catching up on a little R&R. Of course, there are some who elect to spend the summer months a little differently. Madeline Ullrich, a senior art history major with a minor in religion, decided to spend her summer continuing her internship at the United States Holocaust Memorial Museum in D.C. 
Ullrich worked as an intern with Teacher Education and Special Programs. TESP is responsible for educating teaching professionals about methods of holocaust education and holding seminars and conferences in D.C. and nationally. When she began her internship in January, she assisted with the planning for the International Educator Institute, a conference attended by 25 educators from around the world. Many of those who attended came from the Middle East, North Africa, and Eastern Europe, target areas for Holocaust education. 
Ullrich also devoted much of her time researching Christian responses to the Holocaust. She says that while others may not find it shocking, she was surprised to find out that many churches were compliant with the Nazis during the war. "It is such a complex issue. If you ask yourself what would you do in that situation, most people would say that they would help those being persecuted but you can't really put yourself in that situation." 
Of course, there were some very notable figures who stood up to the Nazi dictatorship. Dietrich Bonhoeffer, a German Lutheran pastor, was at the center of the resistance movement against Adolf Hitler and the Nazi party "Bonhoeffer was notorious for speaking out against the Nazi's during the Third Reich," Ullrich said. He helped German Jews escape to Switzerland and was involved in a plot by members of an opposition party to assassinate Hitler. He was arrested in 1943 by the Gestapo and was executed by hanging three years later while imprisoned in a Nazi concentration camp. "I found him to be a complex character; he is commonly praised as a Christian martyr that spoke out against the Nazi's persecution of the Jews and other groups of people, yet writings about his life suggest that perhaps his agenda was not that of defending the lives of the Jewish people but rather that of defending an anti-Nazi, German Lutheran church, which had been compromised by Nazi rule." 
Ullrich's research had a personal side as well. During World War II, Ullrich's family lived in Germany under the Nazi regime, a topic she says is discussed very seldom at home. "It is very hard for people of German ancestry to face the past, and a lot of people just don't want to talk about it. I think the Holocaust Memorial Museum is very good about making one of their missions to talk about and show the many sides of the war." 
This spring Ullrich will finish up her undergraduate degree at AU, and she says she is looking forward to continuing her studies with a master's degree in museum studies. Ideally, she says she would love to either stay in D.C. or move to New York to pursue a job in museum education, with a focus in either art or history.