Literature
MA in Lit Helps Students Find Their Niche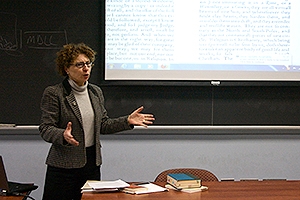 An outstanding graduate program in literature is not a one-size-fits-all proposition.
That's why the College of Arts and Sciences' MA in literature program is perfect for a wide range of students, whether they're planning to pursue a PhD, enhance their credentials as teachers, seek a career in publishing or writing, or simply looking for personal or career development.
"We have a small program," says the program's director, Professor Anita Sherman. "That means the students get a lot of attention."
Those students are a diverse group, coming from all over the country and world. Some enter the program immediately after obtaining their undergraduate degrees, others have pursued careers such as paralegals or are still working at places such as NPR.
'A vibrant intellectual community'
Whatever their motivation or background, they echo the sentiments of Aia Hussein-Yousef, who as an undergraduate at Bryn Mawr College had a double major in English literature with a concentration in creative writing and biology before coming to AU.
The MA in literature program is characterized by "a vibrant intellectual community . . . a brilliant and supportive faculty" that offers "exceptional training in all aspects of literary study," she says. After graduating in 2010 she is now pursuing a PhD in comparative literature at Princeton University.
Alum Maxwell Uphaus, MA '11, now a fourth-year PhD student in English and comparative literature at Columbia University, found the sense of community the program fosters vital to his success.
"In my two years there, I felt part of a diverse but tightly knit group, including faculty, MA students, and advanced undergraduates—a group that was all the closer, perhaps, for being so diverse," Uphaus says. "Many of the friendships I formed and the mentors I acquired at AU are still part of my life and my career. There's a terrific sense of belonging. Graduate school being as stressful as it is, the warmth and vigor of the Literature Department community at AU made a huge difference."
Uphaus applied to AU while living in the D.C. area after graduating from the College of William and Mary, where he majored in English. He was working an administrative job, taking a year to decide whether to apply to graduate school, when a coworker strongly recommended the AU MA program.
Getting a fellowship and a chance to work in the Writing Center pretty much sealed the deal for him.
"I think the foremost thing I got out of the MA program was that it simultaneously filled in the gaps of my general knowledge of literature from my undergraduate education and enabled me to begin specializing and professionalizing my study of literature," Uphaus says. "In that sense, the MA program was the perfect transition from undergrad to a doctoral program; I don't think I would have done nearly as well in a PhD program without my preparation at AU, and probably would not have stuck with it at all."
Different students come to the program with different backgrounds. Before AU, Sarah Papazoglakis, who graduated from the University of Wisconsin–Madison in 2003 with a double major in Spanish and comparative literature, taught high school in France for a year, returned to the United States to work in educational programming at the Smithsonian Institution, and then became director of development at a D.C. nonprofit organization.
"Writing stories about these communities in need in order to secure funding for our organization got me thinking more deeply about the politics of these narratives and inspired me to pursue a graduate degree in literature in order to theorize these questions," she says.
She wanted to stay in the D.C. area, and she wanted to study in a program that was strong in critical theory, particularly regarding race and gender. AU's program fit the bill.
"I got an amazing amount of personal attention from every professor that I worked with," says Papazoglakis. "That was invaluable to me, especially since I had been out of school for a number of years before returning for a master's degree. Every professor that I worked with was willing to talk about the projects I wanted to pursue and offered specific guidance by guiding my research or even referring me to other professors in the department who could better direct me."
She values the small seminars and opportunities to do research at world-class institutions such as the Folger Shakespeare Library as well as the help she received on her thesis and doctoral program application. She is now a PhD student at the University of California–Santa Cruz, where she's focusing on critical theory, theories of affect, and 19th- and 20th-century American literature.
Furthering a teaching career
About a quarter of the MA in literature program graduates go on to pursue a PhD, a quarter teach in community college, a quarter teach high school, and about another quarter pursue other careers, program director Sherman estimates. Students seeking careers as high-school teachers also have the option of getting teacher certification while they're pursuing their MA.
For Nasreen Abbas, who moved from Islamabad to the Washington area in 2002 with a master's degree in literature from Karachi University in Pakistan and graduate credits from the University of Wisconsin–Madison, AU was the perfect place to get the credentials to further her teaching career. She had previously taught elementary school classes and had progressed to high school literature, and after moving to the D.C. area she was teaching high school literature and providing ESL support at the Washington International School.
While earning a graduate certificate in AU's TESOL (Teaching English to Speakers of Other Languages) program, she started teaching at Montgomery College in Rockville, Maryland, and after earning the certificate started teaching at other area institutions of higher learning as well.
But she wanted an MA in literature to help land a full-time instructor's position, and AU's program enabled her to move closer to that goal. After graduating in 2011, she now teaches ESL, writing, and literature classes at Northern Virginia Community College in Alexandria, the National Defense University, and George Washington University.
Her present goal: to pursue a PhD, possibly specializing in Shakespeare or the literature of the Indian subcontinent.
Whatever their track, MA students enjoy the opportunity to take classes offered by the MFA in Creative Writing Program—students have taken classes in translation and literary journalism, for example—and in addition to a class on teaching composition another in teaching literature is planned for spring 2014. In addition, the Graduate Speakers Series draws several distinguished scholars to campus every year.
For more information, see the MA in literature program's website.