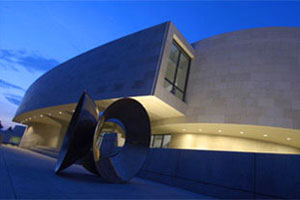 The Katzen Arts Center—a vision come to life—is an innovative space that merges fine arts with performing arts and fosters the interdisciplinary spirit of American University's educational roots. Named for Dr. Cyrus and Myrtle Katzen, passionate and generous AU supporters, the Katzen Arts Center stands as a focal point of student life and community involvement and reflects the excitement of liberal arts education at AU. Share your passion for the arts! Learn about the many ways to become involved in the new Katzen Arts Center or show your support for AU.
The American University Museum has received great critical attention and the impact on the arts community in Washington, D.C., and beyond continues to grow. With a world class space and ambitions to match, the only limitations are financial. AU Museum exhibits and programs would not be possible without support from AU alumni, parents, and friends. Your contributions play a vital role in the lives of our students and have a lasting effect on the future of the arts at AU. Every gift counts, no matter the size, and your generosity will help push AU to the forefront of arts education and enrich the lives of the community for years to come.
Become a Donor
Donors are an integral part of the life of arts at the Katzen Arts Center. Your gifts will start working immediately, and you can choose to direct your gift in the ways listed below. Please contact Andrew Dean at 202-885-6607 or adean@american.edu.
Planned Giving
Establish your legacy with AU and the Katzen Arts Center. For more information on planned giving opportunities, please contact Kara Barnes at 202-885-5914 or kbarnes@american.edu.
Naming Opportunities
Stake your claim! Share your passion for the arts with the entire AU community by naming an area in the Katzen Art Center. Learn more about these opportunities by contacting Andrew Dean at 202-885-6607 or adean@american.edu.
Become an AU Museum Volunteer or Intern
AU Museum offers opportunities for local community members and students to join AU burgeoning art scene as volunteers or interns.