Contact:
Burgtorf, Michael R
Sr. Administrative Assistant
Literature
4400 Massachusetts Avenue NW
Washington
,
DC
20016-8047
United States
Concentrations, MA in Literature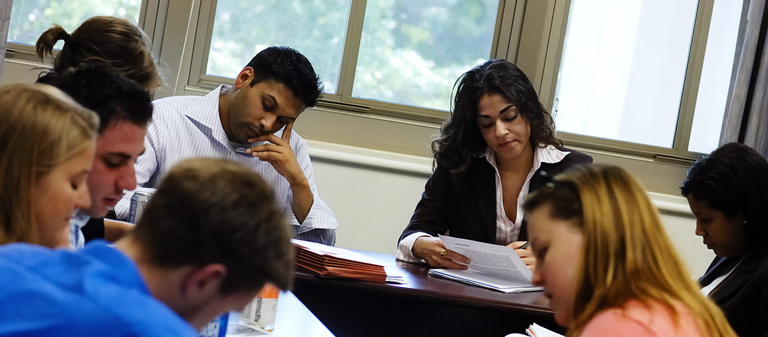 Students customize their graduate study by choosing one of four specialty concentrations within the degree program:
Pre-doctoral

Teaching

Interdisciplinary 
Generalist
These concentrations offer students the unique opportunity to customize their program of study and provide flexible frameworks within which to organize their studies in the MA. Of the twelve courses required for the MA degree, students will complete three within their selected concentration.
Pre-Doctoral Concentration
The pre-doctoral concentration prepares students for doctoral work in English or comparative literature at a PhD-granting institution. Students take one course in literary theory and complete the concentration in one of three ways:
mentored scholarly essay and one additional graduate seminar at the 700 level
Master's Thesis
two additional graduate seminars at the 700 level

The mentored scholarly essay option enables a student to situate a scholarly idea within the current dialogue in the field and to prepare an essay of twenty to thirty-five pages for submission to a scholarly journal (one semester). The Master's thesis, typically forty to eighty pages in length, allows a student to develop an original argument supported by extensive research and to achieve sustained analysis of an idea (two semesters). Those who elect either option work closely with a faculty member in their field of interest. Though not required, one or the other writing/research option is encouraged for students who intend to pursue further study at the doctoral level. Our program has successfully placed students in doctoral programs at Stanford, Berkeley, Virginia, Duke, Johns Hopkins, Penn, Columbia, LSU, Oxford, and other distinguished programs.
Teaching Concentration
The teaching concentration meets the needs of a variety of students:
recent college graduates or returning students who are interested in teaching English at the secondary or community college level or academic writing at the college level
career professionals who are interested in exploring the field of teaching composition
teachers who seek to update credentials and to explore current trends in teaching writing
pre-doctoral students who seek theoretical and practical grounding in the teaching of writing
At the heart of this concentration is the course, Teaching Composition, a theoretical and practical introduction for students to the fields of rhetoric and composition studies that prepares them to teach academic writing.

In the following semester, students may apply for an internship in the classroom and/or in the Writing Center. Students interested in secondary education may elect to take further course work in the School of Education.

Students interning in the classroom work closely with an AU College Writing instructor or Literature professor, attending classes and practicing teaching. The writing instructor serves as faculty mentor and guides the student in developing teaching skills through designing and teaching assignments. Each graduate student thus has the unique opportunity to be an instructor of the class while learning under the guidance of a seasoned teacher and mentor. Those completing this two-semester sequence are eligible to apply to teach a section of College Writing at American University.
Students interning in the alternative setting of the Writing Center are offered the opportunity to develop their skills in one-to-one teaching; to enhance their experience in working with a wide variety of writers, including international students; and to explore a theoretical or practical issue in literacy through a research project of their choice.

The teaching concentration gives graduate students significant background, skills, and practice in teaching writing through working with experienced and dedicated faculty. A number of our graduates who have completed the teaching concentration are currently in full-time teaching positions in English and/or writing in private high schools, community colleges, and four-year colleges.
Students who receive merit awards generally serve as consultants in the Writing Center and may also have the opportunity to serve as teaching assistants to faculty members who are teaching General Education or literature survey courses.
Interdisciplinary Concentration
For students whose intellectual goals range across traditional disciplinary boundaries, the interdisciplinary concentration provides opportunities to incorporate a second academic interest into their primary field of study. Students electing this concentration take three graduate-level courses in another department or departments in accord with a coherent program of studies approved by the Director of the MA program. Typical disciplines for interdisciplinary study have included Women's and Gender Studies, Art History, Anthropology, Philosophy, History, Performing Arts, and Language and Foreign Studies.
Generalist Concentration
The generalist concentration appeals to students who seek a broad background in literature for professional enhancement. Many of the students electing this track discover that their training in critical analysis of texts prepares them well for writing-intensive and intellectually rigorous jobs in professional associations, government, or the private sector. For example, recent alumni of our program are currently employed as a research analyst at Duke Clinical Research Institute and a proposal writer for Affiliated Computer Services, Inc. (ACS), Washington, DC.
Combined Concentrations
With careful planning, students may complete more than one concentration. The most frequent pairing combines the pre-doctoral concentration and the teaching concentration, though other combinations are also possible.