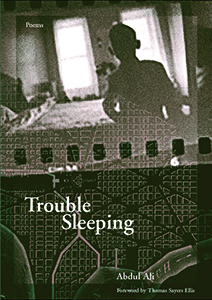 Abdul Ali won the 2014 New Issues Poetry Prize for his collection Trouble Sleeping. Ali's poetry, essays, and interviews have appeared in Gargoyle, Gathering of Tribes, National Public Radio, and The Atlantic, among other locations. He has received grants, awards, and fellowships from The DC Commission of the Arts and Humanities, the College Language Association, and the Mt. Vernon Poetry Festival at George Washington University. Ali teaches at Towson University in Maryland.

Amy Stolls was appointed as the Literature Director at the National Endowment for the Arts. She is the author of the novel The Ninth Wife (HarperCollins, May 2011), and the young adult novel Palms to the Ground (Farrar, Straus & Giroux, 2005), winner of a Parents' Choice Gold Award. She spent years as a journalist covering the Exxon Valdez oil spill in Alaska before she received an MFA in creative writing from American University. Currently, she is Director of Literature at the National Endowment for the Arts, where she has worked since 1998, collaborating with thousands of writers, translators, editors, booksellers, publishers, educators, and presenters nationwide to keep literature a vital part of American society. She lives in Washington, DC, with her husband and two young sons.
Cedric Tillman has released a collection of poetry, Lilies in the Valley. Tillman hails from Anson County, NC and was raised in Charlotte. He is a graduate of UNCC and The American University's Creative Writing MFA program. A Cave Canem fellow, Cedric's poems appear in several publications including Crosscut, Folio, The Chemistry of Color, Cave Canem Anthology XII and Home Is Where: An Anthology of African American Poets From the Carolinas, edited by Kwame Dawes. He lives in Charlotte with his family.

Maxine Clair is most recently the author of October Suite, a novel (Random House, 2001). Her first book, Coping with Gravity, a poetry collection, was published in 1988. In 1992 her first book of fiction, October Brown, won Baltimore's Artscape Prize for Maryland Writers in short fiction. In 1994, she published Rattlebone, a collection of short stories that won the Chicago Tribune's Heartland Prize for fiction, the American Library Association's Black Caucus Award, and the Friends of American Literature Award. In 1995 she received Guggenheim Fellowship.

J.L. Conrad is the author of A Cartography of Birds (Louisiana State University Press, 2002). Her poems have appeared in the Beloit Poetry Journal, H_NGM_N, Folio, For Poetry, and Phoebe. A native of Ohio, she currently lives in Boston.
Dr. Richard Cytowic (MFA '11) won the Eric Hoffer Book Award's Montaigne Medal in June 2011 for Wednesday Is Indigo Blue, a nonfiction work about synesthesia (MIT Press, 2009). Earlier, the neurologist received a Pulitzer nomination for his New York Times magazine cover story about the shooting of James Brady, President Reagan's Press Secretary. The Fallible Mind is his blog at Psychology Today. Cytowic's artist scholarships include Southampton Writers Conference and Virginia Center for Creative Arts.

Barbara Goldberg is a poet and translator whose books include Cautionary Tales (Dryad Press, 1990) and Marvelous Pursuits (Snake Nation Press, 1995). With Moshe Dor, she has translated several volumes of Israeli poetry, including The Stones Remember: Native Israeli Poetry (Word Works, 1991); After the First Rain: Israeli Poems on War and Peace (Syracuse University Press, 1998); and The Fire Stays in Red, by Ronny Someck (University of Wisconsin Press, 2002).
"I have this to say about the American University MFA program: it changed my life. I was capable of stringing words together when I entered the program, but did not have perspective a writer needs in order to sit with her work—and herself—as the material takes on a life of its own."
—Sarah Priestman
Harvey Grossinger is the author of The Quarry, winner of the Flannery O'Connor Award For Short Fiction and The Edward Lewis Wallant Book Award. One of Grossinger's stories won a Nelson Algren Award and another was listed in Best American Short Stories. He is also a lecturer and dissertation advisor at Johns Hopkins University's Master of Arts in Writing Program, and participated in the JHU Manuscript Critique Program at the Washington Independent Writers 25th Anniversary Writers Conference. A member of the National Book Critics Circle, his stories have appeared in Listening to the Voices: Stories from the Flannery O'Connor Award, The Chicago Tribune, New England Review, Western Humanities Review, Mid-American Review, Cimarron Review, and Ascent.
Ginnie Hartman lives in DC with her husband and two children. She is working on a novel. Her stories have appeared in Alaska Quarterly Review, Hudson Review and Iowa Woman. In 1997 she co-edited a book with Barbara Esstman, an anthology called A More Perfect Union: Poems and Stories about the Modern Wedding (St. Martin's).
Grey Hautaluoma is currently a senior writer at the Smithsonian's Office of Development. Says Grey, "The MFA program provided me with a tremendously marketable degree. I've had writing jobs of one sort or another ever since I graduated, mostly for nonprofits, but also as a press secretary on Capitol Hill. I continue to work on material from my thesis, as well as new pieces, mostly fiction. I still regularly attend readings and keep up with contemporary fiction, and the MFA program got me plugged into that in a way that I hadn't been before I entered it."

Donna Hemans has begun leading fiction workshops at the Writers Center in Bethesda. Her first novel, River Woman, was published in 2002. She is working on her second novel, tentatively titled Songs of the Lost Children. She has won grants from the Maryland State Arts Council and Prince George's Arts Council.

Livia Kent (MFA '02) says, "Going through the MFA program at AU was the greatest thing I've ever done for myself as a writer. I developed lasting relationships with my peers, whose opinion of my work I continue to value, respect, and call upon. I gleaned knowledge invaluable to all forms of my writing through the tutelage, support, and friendship of my mentors: Richard McCaan, Kermit Moyer, Myra Sklarew, Andrew Holleran, and Henry Taylor. As each visiting writer passed through, I made a new connection to the writing community and to my own literary voice. By the time I graduated I had gained the confidence I needed to tackle the publishing world. I couldn't have imagined a more fulfilling or fruitful time."
"Going through the MFA program at AU was the greatest thing I've ever done for myself as a writer. I developed lasting relationships with my peers, whose opinion of my work I continue to value, respect, and call upon."
—Livia Kent

Cindy Lollar is working on a novel and has worked at the American Association for the Advancement of Science and now works at the National Cancer Institute at NIH.

Nina Mercer is completing a doctorate in 20th century Literature of the Americas. She is a poet, actress, and playwright at work on a one-woman show entitled "Gutta Beautiful." She also teaches for the Folger Poetry Outreach Program at Woodrow Wilson Senior High School, as well as in the English Department at the University of Maryland.  "The MFA program at AU provided me with the foundation to understand my more fully craft. The program also sparked my desire to continue my studies as a writer and critical literary theorist. Conflicting roles, right? Yes and no. I am also the mother of two amazing daughters, Aya, 7 and Raisa, 5."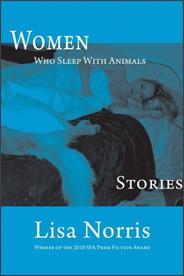 Lisa Norris's story collection Women Who Sleep With Animals won the Stephen F. Austin University Press Prize for fiction and will be published in 2011. She is the author of Toy Guns, a collection of short stories published by Helicon Nine Press and winner of the Helicon Nine Editions' 1999 Willa Cather Fiction Prize. Her writing has been published in a variety of literary magazines, including the Notre Dame Review, Ascent, Kansas Quarterly/Arkansas Review, Southern Poetry Review, Poet Lore, Grand Tour, and the South Dakota Review. She is a professor at Central Washington University.
Bill O'Sullivan is a features editor at The Washingtonian and a former fellow the Virginia Center for the Creative Arts. His essays and articles have appeared in The New York Times, National Geographic Traveler, The Washingtonian, The North American Review, Christopher Street, and Common Boundary, among others. A two-time recipient of Artist Fellowships from the DC Commission on the Arts and Humanities, he is listed in Best American Essays 1996 and 1997. He teaches the personal essay at the Writer's Center in Bethesda, Maryland. Says Bill, "Although I wrote fiction at AU, I write exclusively nonfiction now—mostly personal essays and occasionally book and other reviews. Nevertheless, I consider every moment of my fiction-writing life useful and wouldn't change a thing. Fiction was a fun ride and a huge challenge, but I've settled into the genre that feels more natural to me—though just as challenging."
W.T. (Todd) Pfefferle (MFA '84), has settled in Kentucky after a year-long trip around the country researching and writing his third book, Poets on Place (Utah State University Press, 2005). The book is a travel narrative of a 20,000 mile trip he and his wife took in an RV while Todd interviewed and photographed 62 American poets, including his MFA mentor, Henry Taylor. His poetry has appeared most recently in Antioch Review, North American Review, Carolina Quarterly, Nimrod, Mississippi Review, Greensboro Review and others. He's been nominated for three Pushcart Prizes, most recently in 2009 for a poem in the New Orleans Review. He and his wife have been married for 22 years, and they no longer argue about things that occur on the golf course.
Leslie Pietrzyk is the author of a novel, Pears on a Willow Tree (Avon). Her short fiction has appeared in many journals and magazines, including The Washingtonian, TriQuarterly, Gettysburg Review, The Sun, Iowa Review, New Engand Reviewand Confrontation. Her work has been nominated for several Pushcart Prizes and has received awards from Shenandoah, Columbia, Crescent, and other journals. She has received fellowships from the Bread Loaf and Sewanee Writers' Conferences.
"The MFA at AU was one of the very best gifts I ever gave myself. That's how I see it. I found out I could stand on my feet in both poetry and fiction workshops, and to this day I write in both genres."
—Liz Poliner
Elizabeth Poliner is an attorney, poet, and fiction writer who has won three individual artist's grants in fiction and poetry from the D.C. Commission on the Arts. She is the author of Mutual Life & Casualty, a novel-in-stories (The Permanent Press, 2005). A former fellow at Yaddo and the Virginia Center for the Creative Arts fellow, she is also former editor of Folio and co-editor of Poet Lore. Her work has appeared in Southern Review, Seneca Review, Tar River Poetry, Other Voices, Ascent, Kenyon Review and elsewhere. She is currently a professor in the creative writing program at Hollins University.
Sarah Priestman (MFA '91) has earned her living as a freelance writer for more than eight years. During that time she has ghostwritten two books and published numerous essays and articles. In 1999 she adopted a baby girl from China, and she credits her writing skills with the ability to support her daughter and lead a fulfilling life. "I work from home, and the flexibility means the world to me, as it allows me to be with my daughter before and after school. I absolutely love mothering." In Summer 2003 The Washingtonian published Priestman's essay on the adoption process.
Says Sarah, "Though I know this is said about everything from Spirulina to the Bible to combat duty, I have this to say about the American University MFA program: it changed my life. I was capable of stringing words together when I entered the program, but did not have perspective a writer needs in order to sit with her work—and herself—as the material takes on a life of its own. By the time I graduated, I trusted myself as a writer and I believed in my work. The MFA program taught me to listen, to hang in-there, and to keep writing. Which is what I now do. I also landed in a community of great companions when I got to AU, some of whom remain my dearest friend.