Literature
A Poet Finds Her Voice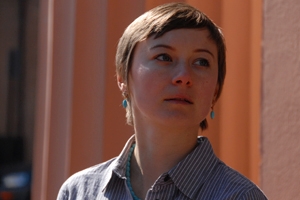 Valzhyna Mort is the youngest person to ever be featured on the cover of Poets & Writers magazine, but she says that means nothing for her, or her poetry.
"What does age have to do with writing?" the AU alumna said. "Mikhail Lermontov wrote his famous long poem 'Demons,' his canonical novel, A Hero of Our Time, was exiled, served in a war, and was killed in his second duel before he turned 27. Arthur Rimbaud gave up writing by the time he was 25, while 81-year-old Toni Morrison published her latest novel, Home, this year."
While Mort says age is not a factor, there is no denying all she has accomplished, even before coming to AU to earn her master of fine arts in creative writing in 2011.
"Valzhyna came to us fully formed," David Keplinger, a professor in the Department of Literature, said of his former student. Mort had already written a collection of poetry, Factory of Tears, and spoke to Keplinger's graduate translation class before she was a student.
"It was odd having her in the class a few years later," Keplinger said. Mort said she chose AU because she wanted a creative writing program that emphasized literature courses and allowed her to experiment with other genres of writing.
"I wanted to study literary translation," she said. "I wanted to have famous, good-looking professors, and a great library."
Keplinger, who taught Mort's translation class, said her interest in translation was vital to the class.
"I learned from her," he said. "Before she was ever a student at AU, she instructed my translation class, 'Poetry in translation is like a person. When it's beautiful, it's rarely faithful.' What she meant was that it's hard to write a translation completely true to the beauty of its source. But the best translators are able to do just that. Her poetry in English does."
Mort said translation class was the highlight of her week. "It was like walking into Christmas for two and a half hours every week," she said. "I would be on the subway on my way to translation class like a kid in that Coca-Cola truck commercial: 'Translation class is coming! Translation class is coming!'"
Mort was born in Minsk, Belarus, and writes and reads her poetry in English and Belarusian. Her recently published Collected Body is her first collection of poems entirely written in English. She said there was no singular inspiration or thought process for the collection, but if there was, she would not talk about it.
"Remember the ending of Faulkner's Light in August?" she said. "'My, my. A body does get around.' So, it's a book about a body getting around."
Mort's William Faulkner reference was a nod to Professor Erik Dussere, with whom she took an independent study course on Faulkner.
"Working with Valzhyna, particularly on the Faulkner project, was always more like having a conversation with a peer than it was like having a student," he said. "She was teaching writing herself at the time, and she would tell me how she had pulled something out of the latest Faulkner book we were working on, and used it as an exercise for her class."
Still hard at work, Mort said she is busy with new poems and two anthologies, one of Russian modernist poetry and the other of contemporary European poetry.
"Valzhyna loves poetry," Keplinger said. "She is suspicious of accepted ideas, is vibrantly intelligent, and eternally witty."
Mort, now a visiting assistant professor at Cornell University, will return to AU on February 27 for the Visiting Writer Series, and will read from her two poetry books.