Literature
Volunteerism, Unabridged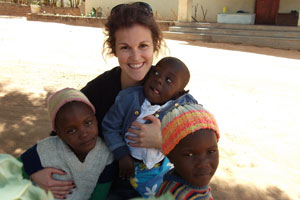 Each time Greta Schuler returns from Zimbabwe, where she spends the summer volunteering at a rural orphanage, she hears the same question: "Why do you go?"
The creative writing MFA student's answer is twofold: she is committed to helping in any way she can, but she also wants to use her writing to investigate the factors that motivate volunteers working in developing nations. 

"I want to explore the darker side of volunteer work, particularly as it relates to power. When you are a foreign aid worker, you are given a lot of power, particularly power over how aid is distributed," says Schuler. "Issues of race are particularly sensitive in Zimbabwe, making this a rich setting to look at white Westerners doing aid work."
With limited resources and widespread need, the question of how to distribute limited food and funds becomes paramount. Schuler says facing these fraught decisions on a regular basis has been the most difficult experience of her life. 
"I want to present the death and suffering, as rough and raw as it is, without sentimentality—to envelop my reader in this wildly chaotic world while showing how the people surviving in it are just like anyone else," she says.

Schuler first became interested in visiting Africa while an intern at the International Institute in St. Louis in 2005. Through a mutual interest in dance, she became friends with a group of Liberian women who shared their stories of immigration and encouraged her to see Africa for herself. In 2006, Schuler spent the summer working with refugees in South Africa.  
Two years later, after working three jobs to save up airfare, Schuler flew to Zimbabwe to spend the summer as an aid worker at the orphanage.  
The facility not only houses orphans but also provides food, clothing, medical supplies, and transportation to the neighboring community, which has suffered through a decade of extreme drought. This year, Schuler received a grant from the College of Arts and Sciences to offset travel costs. 

Schuler has two new publications related to her work in Zimbabwe. Her essay "Fragile," which won the MFA Program-Off Contest at the Association of Writers and Writing Programs Conference in April, is forthcoming in Creative Nonfiction. And her translation of Zimbabwean poet Ignatius Mabasa's "Maternity Ward" from the original Shona will appear in the winter issue of Drunken Boat.