On Campus
Juggling Expectations of Student Writers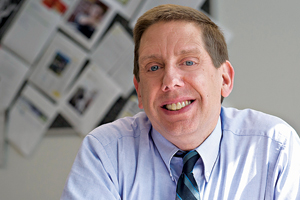 AU's College Writing Program offers the most important classes students transitioning from high school to college will take.
A tall claim? Consider that those classes go beyond guiding students in their evolution from clever masters of formulaic essays to becoming real scholars and writers. College writing classes act as University 101 — they teach freshmen about the new world they've entered, the academy.
"I say to students all the time, the proof of a success of a piece of writing isn't how the writer feels about it; it's how the reader receives it," said program director John Hyman. "So the proof of the success of the College Writing Program, it follows, is what students are gaining from it."

What Students Say
So what do former writing students say?
"My college writing classes were hands down the most important classes I took in college," said Thomas Davidson, SPA, who is graduating next month.
"Before I came to AU we were required to read The Devil's Highway as part of the Writer as Witness program," Davidson recalled. "The book immediately opened my mind to the diverse and very unique culture at AU."
Before college Davidson had never met the author of a well-known work.
"So when the author, Luis Alberto Urrea, came to speak it was a great opportunity to understand the writing process. When students questioned the author about his book I realized that although I had many similar questions, other students had very different perspectives on the book based on their own experiences."
Every year, entering freshmen read a common text before fall classes begin. So students immediately have a shared experience, and beyond discussing the text in class they have an opportunity to meet and question the author.
"It was so encouraging to show up to Welcome Week and find that you already had something in common with your friends," said Meredith Norris, SIS '12.
Fall 2012 will feature Seamus McGraw's The End of Country, the story of what happens in a remote corner of Pennsylvania after a vast natural gas deposit is discovered buried in the shale. McGraw will appear on campus September 5 to discuss his work.

Challenging Assumptions
In college writing classes, students learn to excavate the material they're studying in much deeper ways than they could in high school—even at very good high schools. Writing, they discover, is a process.
"The College Writing Program was very important to my success at AU because it taught me how to write, not just how to grab a handful of arguments, whittle them down to three, slap an introduction and conclusion onto it, and pretend it's an essay," said SIS alum Mary McKee '10. "The writing program taught me how to pick over my own writing, tear it apart, and build it back up again to make a straightforward, coherent, and valuable essay. I have never felt more challenged and supported in a class."
Those skills became important not only in her classes at AU, she said, but at internships. And McKee credited what she learned about writing and editing at AU with helping her prepare her successful application to graduate school.
College writing classes can also be a wake-up call for bright students accustomed to sleepwalking through high school essay assignments.
Suddenly, the game has changed.
That was the experience of Briana Weadock, who earned BA and MA degrees in sociology at AU and is now an academic counselor in SPA's Department of Government Affairs. She recalled her attitude as a freshman for whom classwork had always come easily.
"I came to AU from a rigorous college prep high school where I had always had great success without much effort in my writing assignments," Weadock said. "Due to the fact that writing came easily to me, I had never put much thought into the process of writing a paper or constructing an argument. In fact, I walked into John Hyman's classroom in August 1989 with a bit of a chip on my shoulder."
The fact that her AP score was too low to allow her to skip the writing class, she was certain, was a mistake. She was determined to prove whoever had made that grading error wrong.
Only her papers kept coming back with lower grades than she was used to getting, marked up and filled with margin notes.
"Eventually, I started to understand that while I may have possessed some raw abilities, I could benefit from a more disciplined approach to the art and craft of writing," Weadock said. "While college writing did slowly make me understand the process of becoming a college student, as well as the process of becoming a better writer, I didn't allow myself to come to that realization fully until I began working with undergraduates as an academic counselor."

Changing Course
Since fall 2011, entering freshmen at AU can no longer test out of college writing. High AP or IB scores or not, everyone takes writing — even if it's an intensive one-semester class for some students. The reason: faculty across the university were encountering students who were obviously accomplished but couldn't produce college-level writing.
Gen Ed teachers and Career Center advisors started asking why these smart students couldn't put together a cogent essay. The answer: high test scores had allowed them to bypass the college writing class.
The College Writing Program, part of AU's College of Arts and Sciences, has changed in other important ways as well. It bears little resemblance to the program Hyman joined in 1986. In those days, nearly all composition classes were taught by adjunct faculty, and in 1988, when he was hired as a full-time writing instructor, there were only three full-time writing positions.
Today, the writing program has an accomplished faculty of 21 full-time teachers, a full-time associate director of the Writing Center, and a full-time coordinator for international students.
"You can't recognize the [old] program from where we are now," Hyman said. "I'll just be an unfettered braggart. We have an amazing faculty."

Juggling Expectations
In his own writing classes, Hyman likes to perform a trick. He takes out three lacrosse balls — lacrosse balls having the best weight and mass for his performance — and while talking about the process of writing, he starts to juggle.
"You probably think that juggling is hard," Hyman said. "You probably think that juggling and doing tricks is impossible. You think that there's some kind of special coordination or skill that jugglers have. Jugglers know it's easy. It's EEE-Z."
He tells the students, "I'm not even thinking about juggling right now because I've internalized how to do to this. You haven't internalized yet how to be a good writer. So we have to slow down and talk specifically about the moves you have to make to become a good writer. Over time you'll get to the point where you can accomplish those moves on the page without thinking about it."
Writing, he emphasizes, takes hard work. It takes discipline. But it's doable.
Just like juggling.